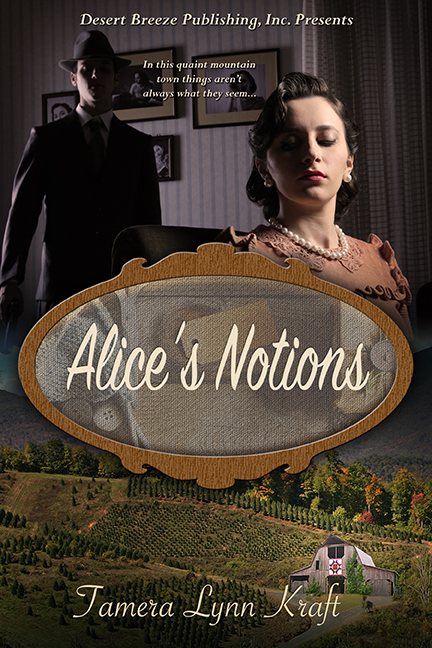 FEATURED BOOK: Alice's Notions
AUTHOR'S NAME: Tamera Lynn Kraft
PUBLISHER: Desert Breeze
GENRE: Historical Romantic Suspense
STAND ALONE OR SERIES: Stand Alone
TARGET AGE: Adult Women
IT IS MY PLEASURE TO WELCOME AUTHOR TAMERA KRAFT TO THE OVER 50 WRITER. TAMERA SHARES HOW PUBLISHING OVER 50 CAN FEEL LIKE DRIVING DOWN A SCARY ROAD.
The Scary Road
by
Tamera Lynn Kraft
Trust in the Lord with all your heart and lean not on your own understanding; in all your ways submit to him, and he will make your paths straight. - Proverbs 3:5-6
My husband and I went to New Mexico on vacation a few years ago. One of the sites my husband and I wanted to see was Sandia Crest. There's a tram that goes to the top of the mountain, but we decided to drive, so we typed Sandia Crest into our GPS. What we didn't know is that there are two roads to the top of Sandia Mountain. One road is paved with wide lanes and guard rails. The other road is an unmaintained state highway that you travel at your own risk. Our GPS took us up the second path.
We should have guessed how scary the road would be when the sign said "Unmaintained Roads Ahead. Travel at your own risk." But we decided it wouldn't be that bad. After all, we had a four-wheel drive SUV, and it wasn't winter, so when it became a gravel road we weren't that worried.
We did get a little nervous when the road started having ruts and stones the size of the Grand Canyon. Then the road narrowed until most of the time, it was one lane. The trees cut off so we could only drive on part of the road were interesting.
Then there were the steep drop-offs with no guardrails. Of course, the "Beware of Bears" signs didn't make us feel any better. We had to go slow, very slow, so the journey to the top took much longer than we expected, but the view made it all worth it. It was spectacular.
Finally, we made it to the paved road. Soon after that, we reached Sandia Crest, elevation 10,689 feet. The view was like nothing I'd ever seen. We went back down over the safe way. It was a nice drive, but not nearly as fun or as beautiful as the scary road.
Being on the journey of becoming a published writer over the age of 50 is a lot like driving on that scary road. Few travel there, and there's the constant feeling of "what am I doing here?" When that first publishing contract comes through, you know the view is worth the drive.
In my new novel, Alice's Notions, Alice Brighton is afraid of drive and has to confront her fears and drive up a winding West Virginia mountain road. She's wanted to play it safe since her husband died in the war, but life doesn't work that way sometimes.
Sometimes God takes us on scary paths. We travel those roads alone, because nobody else wants to take a chance. These paths take us out of our comfort zone. Sometimes they're dangerous, but God never promised us safety. He did promise to travel these roads with us. And the view is spectacular. When we reach the crest where the air is thin, so thin few travel there, and we experience the magnificence of God's glory, we realize it was worth it all.
Alice's Notions Blurb:
In this quaint mountain town, things aren't always what they seem.
World War 2 widow Alice Brighton returns to the safety of her home town to open a fabric shop. She decides to start a barn quilt tour to bring business to the shop and the town, but what she doesn't know is sinister forces are using the tour for their own nefarious reasons
Between her mysterious landlord, her German immigrant employee, her neighbors who are acting strange, and a dreamboat security expert who is trying to romance her, Alice doesn't know who she can trust.
Buying Links: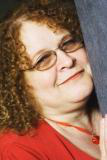 Tamera Lynn Kraft has always loved adventures. She loves to write historical fiction set in the United States because there are so many stories in American history. There are strong elements of faith, romance, suspense and adventure in her stories. She has received 2nd place in the NOCW contest, 3rd place TARA writer's contest, and is a finalist in the Frasier Writing Contest and has other novellas in print. She's been married for 38 years to the love of her life, Rick, and has two married adult children and two grandchildren. Tamera has two novellas in print: A Christmas Promise and Resurrection of Hope. Her first full length novel, Alice's Notions, is due to be released in April.
Tamera has been a children's pastor for over 20 years. She is the leader of a ministry called Revival Fire For Kids where she mentors other children's leaders, teaches workshops, and is a children's ministry consultant and children's evangelist and has written children's church curriculum. She is a recipient of the 2007 National Children's Leaders Association Shepherd's Cup for lifetime achievement in children's ministry. Connect with Tamera online:
Check out Tamera's post on Patti's Porch.