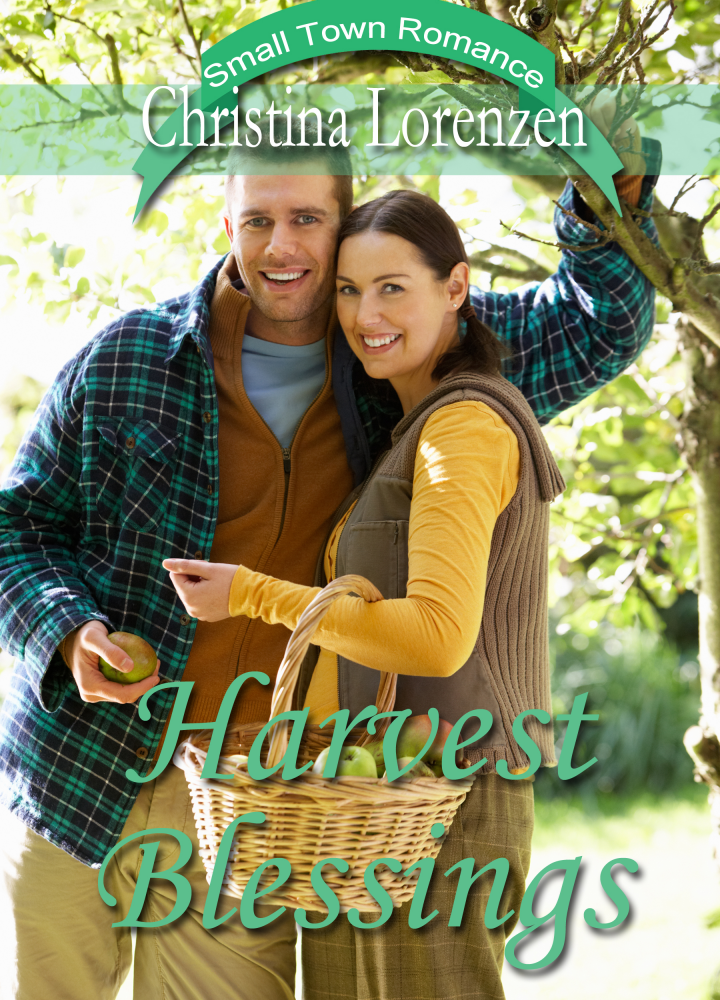 FEATURED BOOK: Harvest Blessings
AUTHOR: Christina Lorenzen
PUBLISHER: Forget Me Not Romances
GENRE: Sweet clean romance
SERIES or STAND ALONE: Stand alone
TARGET AGE: teens and up
IT IS MY PLEASURE TO WELCOME AUTHOR CHRISTINA LORENZEN TO THE OVER 50 WRITER. CHRISTINA SHARES HOW HER WRITING JOURNEY PROVES THAT IT'S NEVER TOO LATE TO MEET YOUR WRITING GOALS.
CHRISTINA IS OFFERING A GIVEAWAY! SIMPLY LEAVE A COMMENT BELOW TO ENTER THE DRAWING FOR A PRINT COPY OF HARVEST BLESSINGS.
The Over 50 Writer
by
Christina Lorenzen
I'll be honest. I never used to be one of those people who kept a running list of 'goals by age __". I started writing in my preteen years. In my twenties I was still writing, but I was also working a full-time job and doing what most twenty somethings do – living life. In my thirties I was a mom to two young children. I was writing freelance articles for the local paper, parenting magazines, women's magazines and anywhere online that netted me a payment or byline.
Looking back I think I was just too scattered to think about what my long term goals were. Then I turned forty. Wow. While I know a lot of people have an 'awakening' at the thirty year milestone; mine hit around forty. Suddenly I remembered how as a teenager I had intended to be a novelist. I had dreamed of seeing my name on a book cover and, I'm really showing my age here, being in the card catalog at the library. If you're in the Over 50 club I'm sure you're smiling at this sweet memory.
I began working on a number of book ideas. I would start a story and then a shiny new idea would sparkle in the distance and I would be on to that idea. There were lots of starts and stops. Lots of half-finished stories lying dormant on my hard drive. When I turned forty-eight and still hadn't finished a novel, I sat down and wrote the one goal I was shooting for – to be published by my fiftieth birthday, which was January 19, 2013. What really pushed me to achieve my goal was a writing contest sponsored by my favorite author, Debbie Macomber. Her publisher announced a novella writing contest. The winning novella would be published in the back of a re-issued copy of one of her old novels, A Family Affair. I love Debbie Macomber. I have every one of her books (I kid you not). Not only do I read her novels, but I read her non-fiction books. Debbie is a woman of great faith and her journey toward publication continues to inspire me. So in just three weeks I wrote my novella and submitted it.
To make a long story shorter, I will tell you I did not win. I was disappointed. And yet something about my story made me push on. I liked it. I really liked my story. I'm a perfectionist and that was a first for me. So I decided to submit it to a publisher. And another publisher. And a few more publishers. One publisher even recommended some editing and rewriting for a second look. I was collecting a lot of rejections. And worst of all my fiftieth birthday had come and gone. As a matter of fact, we were cutting cake for my fifty-first birthday when I remembered I hadn't heard from the most recent publisher I had sent my book to. This publisher had come on the recommendation of an author who posted about a pitching event the publisher was holding on Facebook. I had decided it would be my last attempt. After this rejection the book was going to the hard drive grave yard. I would look for my next shiny idea.
Then it happened. On February 19, 2014, exactly one month to the day of my fifty-first birthday, exactly one year past my 'goal by 50' goal, I got an email saying that Astraea Press, now Clean Reads, would love to publish my novella, A Husband for Danna. As they say, better late than never.
I'm working on checking off the goals on my 'Goals by 55' list. I've got a year to get it all done. So far so good. I'll see you here next year and let you know how things went.
I've learned one thing for sure – it's never too late to go for anything. What goals have you made for your fifties?
Book Cover Blurb for Harvest Blessings:
Professional musician Tacy Clark hasn't been back home to Hill Top Orchards since the death of her beloved Uncle Jerry. When she gets an email from her aunt, the guilt she's been feeling since her uncle's death forces her to make the trip back home.. When her car breaks down, a ride from her aunt's neighbor, Brody Porter, is the beginning of a roller coaster of emotions, as Tacy is forced to deal with guilt and the pain of never having known her mother. Intending to stay only as long as it takes to harvest the apples for the annual festival and be free from guilt, Tacy is determined not to get involved with Brody Porter and his little girl Cami.

Brody Porter was burned by his estranged wife, Carrie Ann, a struggling actress, who came into his life during a lull in her career and then left him alone to raise their daughter, four year old Cami. He's vowed never to play the knight in shining armor again. His only interest in Tacy Clark is making sure she gets those apples harvested for the town's annual festival. Without that harvest, the festival might not raise enough funds for the church preschool. Without a place for Cami to go every day he won't be able to put the time he needs into his livelihood, his coffee shop, Brews & Bites.

Tacy Clark and Brody Porter are both determined to get what they want and go their own ways. Will the sweet scent of apples and a harvest moon soften the hearts of two people who need each other more than they know?
DON'T FORGET TO LEAVE A COMMENT TO BE PLACED IN THE DRAWING TO WIN A COPY OF HARVEST BLESSINGS BETWEEN NOW AND SUNDAY, MAY 21ST AT MIDNIGHT MDT.
Christina started writing as a young teen, jotting stories in wire ring composition notebooks. Her first typewriter made it faster to get all those stories out of her head and down on paper. Her love of writing has sustained her through a myriad of jobs that included hairdresser, legal secretary, waitress and door-­to--door saleswoman.

Luckily for her, writing proved to be successful and a lot less walking than going door to door. Healing Seas, her first historical romance, is Christina's fifth book. She is also the author of A Husband for Danna, its sequel, A Wife for Humphrey, Snow Globe Reunion and Harvest Blessings. She is busy working on a modern retelling of the classic tale, Rapunzel. When she isn't writing or reading, she can be found walking her dog, talking to her herd of cats and spending time with her family.

Visit Christina online: