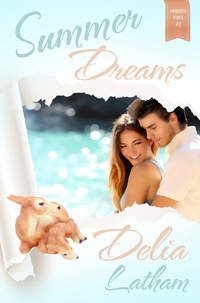 FEATURED BOOK: Sumer Dreams
AUTHOR'S NAME: Delia Latham
PUBLISHER: Pelican Book Group
GENRE: Inspirational Romance
STAND ALONE OR SERIES: Paradise Pines, Book 2
TARGET AGE: 16 - 116 :)
IT IS MY PLEASURE TO WELCOME AUTHOR DELIA LATHAM BACK TO THE OVER 50 WRITER. DELIA TELLS US ABOUT HER BUDDING WRITING CAREER. SOMETIMES SHE QUESTIONS WHETHER IT IS A BLESSING OR NOT.
Am I Getting Too Old for This?
by
Delia Lathaam
?
I am literally racing toward my 60th birthday. (How did it happen? When did it happen?) Most of the time, I don't give aging too much thought. It is what it is, and all the fretting in the world can't stop time.
But here's the thing: I've had two book releases since the beginning of this year. Another release is coming up on the 19th. Before the year ends, I'm scheduled for at least three, and possibly four more.
Something to be thankful for, right? Absolutely, and I am. I'm delighted about it. When releases come close on the heels of each other, an author doesn't have to worry about readers 'forgetting' who she is. I can be assured that particular horror won't happen to me in 2017—they're more likely to tire of seeing my face and/or book cover every time they go online.
On the other hand, book releases are a lot of work—and I don't just mean my busy fingers on the keyboard. I'm talking about marketing, writing blog posts (like this one), planning and taking part in social media events—getting the word out by means of whatever kind of opportunity presents itself.
It's exhilarating. It's exhausting. And it is essential.
Nothing beats the natural high of seeing my book covers splattered all over the Internet. Nothing wears me out more than the constant push to make the public aware of those books. And nothing is more important than doing exactly that…because if no one knows about a book, it has zero chance of selling. Getting a buzz started about a book is key to its potential success. That's why I so appreciate a reader who posts a review, or tells her friends about a book, or even hands out a few bookmarks to the church ladies' group. I can't reach everyone by myself, but if my friend writes a review, and someone who reads that review buys the book and then tells her friend about it…and then if that reader buys the book and talks about it at her ladies' group…and each of those ladies does something to spread the word…well, you can see how people will be reached that would never hear about that book by my efforts alone.
But I don't have a guarantee that all those dominoes are going to fall in place. I can hope. I can pray. But I can't stop there. I have to keep plugging away at my own marketing efforts. And sometimes I seriously wonder if I'm not getting too old for it all.
Fortunately, that bit of doubt sticks around only until I read the next positive review, or someone tells me what an impact a book had on her life. Then I'm jazzed up and ready to go at it again.
I don't think I'll ever be too old to get a little thrill from knowing someone was blessed by the words in one of my books. Age can't stop me from enjoying the light in a reader's eyes after God has used my book to give her the encouragement she needed in a dark time. I'll never be untouched by knowing a reader was able to forgive someone, to overcome a weakness, to dodge one of Satan's fiery darts…because of something she read in a book I wrote at the inspiration of Almighty God.
No, I'm not too old for that. Not at any age.
About Summer Dreams:
The getaway of a lifetime...kinda.
Summer Callahan isn't in Cambria for the beach or the ocean or the pine-scented air around Paradise Pines Lodge. She's there as a companion to her flighty cousin, Deah—with the understanding that they will have separate agendas the entire time. Summer just wants to be left alone to dream up the romance novels she writes under a pseudonym.
A real-life hero who rivals a romance novel...really!
But never in Summer's wildest writer's imagination does she dream of being caught in an undertow and almost drowning, only to be rescued by a wealthy artist. And when Logan Bullard proves hard to shake, Summer fears for her heart—especially when Deah sets her sights on Logan.
A Cupid to pull it all together...?
But at Paradise Pines Lodge, what's meant to be has a way of happening...at the best time and in the best way. Miss Angelina Love—who may or may not own the place—has an "in" with Heaven's own "department of romance." And she's determined to see Summer and Logan together.

Summer Dreams can be purchased at:

Amazon
DELIA LATHAM is a born-and-bred California gal, raised in a place called Weedpatch and currently living in East Texas with her husband, Johnny. She enjoys multiple roles as Christian wife, mother, grandmother, sister and friend, but especially loves being a princess daughter to the King of Kings. She has a "thing" for Dr. Pepper, and loves to hear from her readers. Contact her through her website or at any of the following online locations:
Check out Delia's previous visit to The Over 50 Writer!