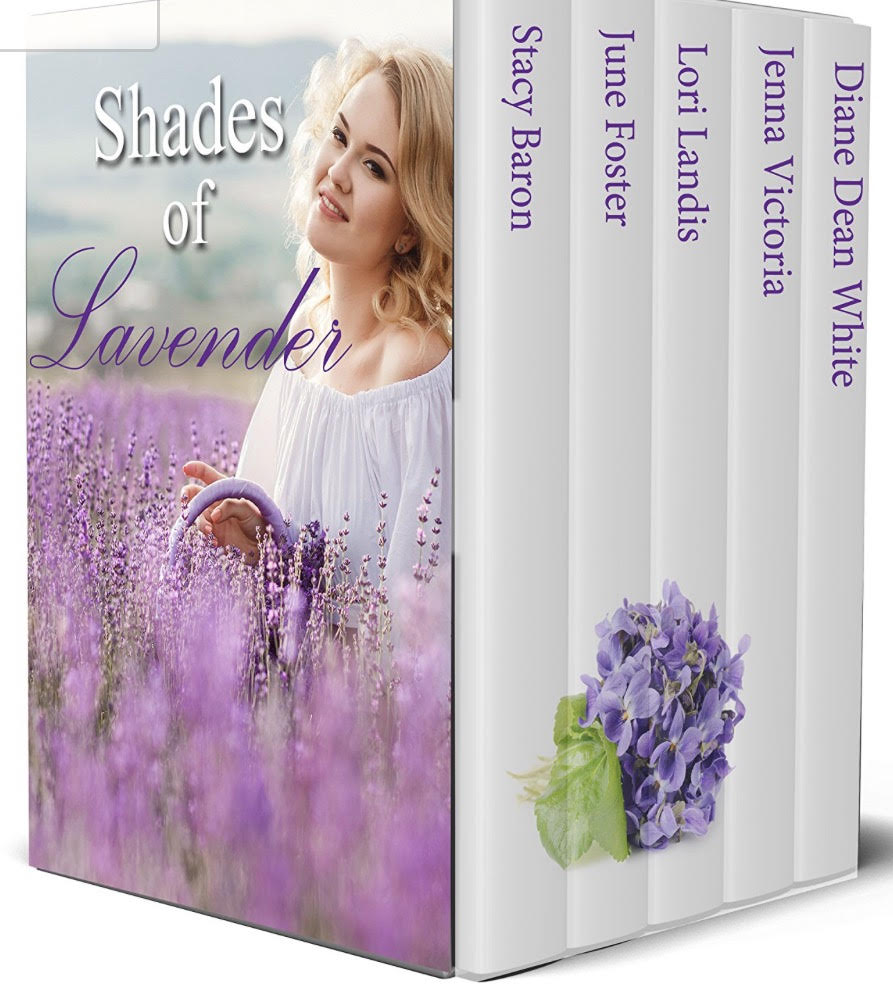 FEATURED BOOK: Love Among the Lilacs
AUTHOR: Jenna Victoria
PUBLISHER: Forget Me Not Romances, A Division of Winged Publications
GENRE: Sweet, clean romance
SERIES OR STAND ALONE: stand alone, and in collection
TARGET AGE: teens and up
IT IS MY PLEASURE TO WELCOME AUTHOR JENNA VICTORIA TO THE OVER 50 WRITER. JENNA SHARES THE UNUSUAL CIRCUMSTANCE THAT MOTIVATED HER TO TAKE HER WRITING CAREER SERIOUSLY. SHE'S BEEN GOING STRONG EVER SINCE.
JENNA IS OFFERING A GIVEAWAY! SIMPLY LEAVE A COMMENT BELOW TO ENTER THE DRAWING FOR AN EBOOK COPY OF LOVE AMONG THE LILACS.
NOTE: Love Among the Lilacs is also now included in Shades of Lavender - Five Stories of Love Among the Flowers by Forget Me Not Romance authors.
Find the collection here!
On being an author with a terminal illness…
by
Jenna Victoria
This month marks my five year cancerversary. While other breast cancer patients typically announce they are in remission at the five-year point, and blow out candles on a huge celebratory cake, my story is a bit different.
And that's okay.
Out of a group of 100 typical breast cancer patients, I am one of the 18-20 women who will be diagnosed with triple-negative breast cancer, or TNBC. It is more aggressive, difficult to treat, and the list of chemotherapy agents at our disposal is about 1/3 the size of the treatment cocktails for patients with hormone-positive breast cancer. There is no pill like Tamoxifen for TNBC; only IV chemo. Triple-negative cancer cells are especially diverse, intelligent and intuitive. They quickly migrate to other areas of the body. Once the cells realize chemo agent toxins are killing them off, they rearrange their DNA to make that particular agent ineffective. We then go to the next chemo agent on the list, and pray. Every three months we get a PET-CT Scan to see if the new type of chemo is working. Wash, rinse, repeat…as they say. Eventually, the chemo list will run out.
And, that's okay, too. God is in control. I've already lived longer than many women with TNBC do. He has blessed me beyond what I can fathom.
What does this have to do with writing over 50? Everything.
It's made me honest. I've played at being a writer most of my adult life. Aside from being a senior staff writer for a newspaper, when I had to write to deadline, I had a very lackadaisical approach to writing. I'd start a book, write three great chapters, then… get sidetracked by another story idea and different characters. I was like a magpie, going after every shiny new thing.
I joined all the correct writing organizations: ACFW (American Christian Fiction Writers), four different chapters of Romance Writers of America; Faith, Hope and Love, their online faith-based group, and three local chapters, LIRW, NJRWA and CTRWA.
I'd attend conference after conference, workshop after workshop. I'd buy top ten how-to writing books and absorb all the knowledge I could. Once, I even attended a My Book Therapy weekend in Minnesota. In October. And a Windy RWA retreat. In Chicago. In March. Both of which felt like December. (People who know me, know I hate cold weather!) I made it to the final stages of a Harlequin Romance submission contest, then I pulled out, knowing I couldn't finish the manuscript by the deadline for the next stage. Who does that??
Despite the astonishing amount of time and money spent on "being a writer" and "doing writerly things"–I was no closer to typing The End on a manuscript than when I was acting President of an RWA chapter in 1989. More than 25 years ago. I was talking the talk, but not walking the walk.
Being faced with a terminal illness will rearrange your priorities, fast. Of course, creating a meaningful quality of life as I undergoing repetitive, grueling treatment is first on my agenda. Spending lots of time in doctor's waiting rooms, or during radiation and chemo infusions gives one time to think.
I realized that publishing a book - a good book - was important to me. Publishing more than one would be icing on the cake. God then put an opportunity in my lap to write a Christian time-slip Christmas novella, and that's all it took. Having that contract for War of the Heart, and signing my name to the bottom, aligned my heart with my mind and my keyboard. I finished the 30k book on time, and it released to very positive reviews. My new book, Love Among the Lilacs, was also completed on time, and at 36k, is longer than many novellas. I have 4 more books contracted for 2017. Plus, I am finishing that Harlequin submission and sending it to the editor who requested it, in the fall.
Be honest with yourself. Don't play at being a writer, like I did. As Yoda said to Luke Skywalker after he half-heartedly says he'll try…"No. Try not! Do. Or do not. There is no try."
I want to encourage all over 50 writers to reach out for that dream of being published and hold on tight. Learn. Listen. Write every day. DO IT! Don't wait for a terminal diagnosis to type The End and get your work before an agent or publisher.
Nobody is promised tomorrow.
Book cover blurb for Love Among the Lilacs
Bookkeeper Mollie Wright knows about living on the streets, and her purchase of sweet Lilac Cottage is a dream come true. She is determined to stay and fight when a legal error puts her ownership at risk. Attorney Sean Grady never wanted his great-aunts to sell their cottage in Westchester County, New York, so when a paperwork snafu puts the deal on hold, he moves swiftly to evict the pretty, feisty squatter. Mollie finds unexpected allies in Grady Cove neighbors and a member of Sean's own family but knows the clock is ticking. Will a theft and her past secrets force a showdown to heartache, or will Mollie and Sean discover home is truly where your heart is?
Buy on Amazon:
DON'T FORGET TO LEAVE A COMMENT TO BE PLACED IN THE DRAWING TO WIN AN EBOOK COPY OF LOVE AMONG THE LILACS BETWEEN NOW AND SUNDAY, JUNE 18TH AT MIDNIGHT MDT.
Ever since her grandfather co-created Twinkies, Snowballs & Hostess cupcakes for Intercontinental Baking Company, circa 1955, Jenna has yet to taste a cake she hasn't liked. Jenna writes books for readers who enjoy sweet & compelling romances, and also for those who look for her "fiction that feeds your faith" titles – happily-ever-after romance & romantic suspense stories with a Christian world view. Her stories emulate those she enjoys reading…with a heroine who is in grave danger & a hero who is smart enough to get out of her way as she kicks butt & takes down names… and those that feature satisfying fairy-tale-endings.
Her clean romances won't put you into a diabetic coma, and her faith-based romances aren't preachy or unrealistic. It is her glad purpose to glorify God and His sacrificial love through His Son, Jesus Christ through books that illustrate hope & peace in unbearable situations. Her first triple negative breast cancer diagnosis in 2012 has led to surgeries, radiation, reoccurrences and incurable metastasis. Still, Jenna continues to praise God and trust His oversight in her life; and continues to write more books.
Connect with Jenna online:
Check out Jenna's post How Did I End Up Here? from her visit to Patti's Porch in April.