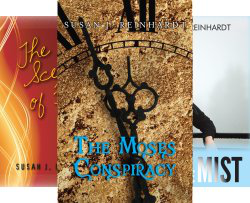 Featured Book: The Moses Conspiracy
Author: Susan J. Reinhardt
Publisher: Amazon White Glove
Genre: Futuristic (but no aliens or spaceships!)
Series or Stand Alone: Series
Target Age: 18 and up
IT IS MY PLEASURE TO WELCOME AUTHOR SUSAN J. REINHARDT TO THE OVER 50 WRITER. SUSAN REVEALS HOW A DECLARATION FROM HER HUSBAND OVER TEN YEARS AGO LAUNCHED HER ON HER JOURNEY AS A FICTION AUTHOR.
SUSAN IS OFFERING A GIVEAWAY! SIMPLY LEAVE A COMMENT BELOW TO ENTER THE DRAWING FOR A PRINT COPY OF THE MOSES CONSPIRACY.
Writing Through Dark Times
by
Susan J. Reinhardt
"That's it! That's your book, and you'll write it in four months. It will be called Ghosts of the Past.
My late husband's declaration back in 2004 launched my fiction journey. Prior to this momentous occasion, we'd visited Gettysburg during the Christmas season. Standing in the old-fashioned town square, I heard (with my inner ears) the forefathers' voices as fading echoes.
Up to that point, I'd focused on non-fiction and sought ways to express the Gettysburg experience in an article or devotional. After many frustrating attempts, I put it aside and prayed for direction.
While I still had no idea what to write, I sat at the computer, and characters introduced themselves one by one. Exactly four months later, a 55,000-word manuscript sat on my desk.
Two months later, my beloved was diagnosed with Acute Lymphoblastic Leukemia with the Philadelphia gene. The book gathered dust for the next seven months as we fought this deadly disease together. Writing became a means to inform our family and friends about our daily triumphs, experiences, and setbacks.
When the Greater Philadelphia Christian Writers Conference rolled around, David insisted I attend. The editors I met sent me home with two assignments: 1) Expand the story to 80,000-100,000 words, and 2) Learn how to write fiction. Ouch!
In between my husband's treatments and hospital stays, I studied and revised my work in progress. I often went weeks without looking at the manuscript as the cords that tethered his spirit to his body frayed. On a spring evening in 2007, he slipped into the arms of the Savior.
Once again, the manuscript languished as grief consumed me. Yet, the thought of David's excitement and support for my writing gave me a reason to move forward and pursue publication. I threw myself into the task with renewed vigor.
In 2013, the re-titled book, The Moses Conspiracy, hit Amazon through a small press. Two more books, The Scent of Fear, and The Christmas Wish soon followed. After parting company with that publisher, my agent suggested I re-issue all my books and publish the third book in The Moses Trilogy called Out of The Mist, through Amazon White Glove.
As I wrote to honor the Lord and my husband's faith in the vision, the spark ignited my desire to go on with life. God used the story not only to galvanize readers to preserve our freedoms, but also to heal my broken heart.
Book Blurb for The Moses Conspiracy:
In 2025, two seemingly unconnected events set a diabolical plan in motion. Ellie and John Zimmerman find themselves embroiled in a life-threatening investigation, fighting a shadowy enemy.
Several years after a terrorist attack on Washington, D.C., Ellie and her son, Peter, go on a field trip to the nation's capital. Her greatest fear is realized when they become separated. Back home, John witnesses a buggy accident with unusual circumstances.
Caught between strained family relationships and ominous warnings from a faceless enemy, the couple rely on God for wisdom and protection. When the true nature of a past tragedy is revealed, will they survive the heartache it brings?
DON'T FORGET TO LEAVE A COMMENT TO BE PLACED IN THE DRAWING TO WIN A COPY OF THE MOSES CONSPIRACY BETWEEN NOW AND SUNDAY JULY 9TH AT MIDNIGHT MDT.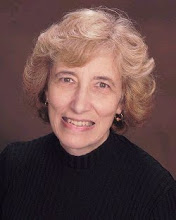 Susan J. Reinhardt's publishing credits include her novels, The Moses Conspiracy, The Christmas Wish, The Scent of Fear, and Out of The Mist, as well as devotionals, short articles, and contributions to anthologies. She is a member of American Christian Fiction Writers.
A widow, daughter, stepmom, and active church member, Susan resides in Pennsylvania. When not writing, she enjoys time with family and friends, reading, couponing, gardening, and finding small treasures in antique shops.
Visit Susan online: