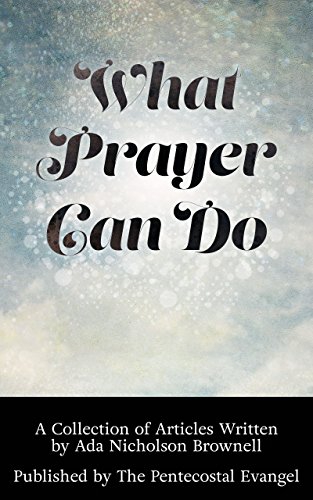 FEATURED BOOK: What Prayer Can Do
AUTHOR: Ada Nicholson Brownell
PUBLISHER: Kindle Direct Publishing
(all chapters originally published by The Pentecostal Evangel)
GENRE: Faith-building non-fiction
SERIES OR STAND ALONE: Stand Alone
TARGET AGE: 15-100
IT IS MY PLESURE TO WELCOME AUTHOR ADA NOCHOLSON BROWNELL TO THE OVER 50 WRITER. ADA SHARES HER WRITING JOURNEY, FROM THE $3.00 PAYMENTS SHE RECEIVED AS A TEEN TO THE REWARDS SHE REAPS TODAY.
ADA IS OFFERING A GIVEAWAY! SIMPLY LEAVE A COMMENT BELOW TO ENTER THE DRAWING FOR WINNER'S CHOICE OF PRINT OR EBOOK COPY OF WHAT PRAYER CAN DO.
HOW DIVIDENDS CAME FROM MY WRITING
by
Ada Brownell
My stories found the light day in the early 1960s.
I didn't really think of myself as a writer. I'd read you aren't a professional writer unless you make a living from it. I often made only $3 or so for an article purchased by a Christian magazine. But it wasn't long before David C. Cook purchased a story about my mother's Sunday school teaching methods. Eureka! My mouth and eyes popped open on my way home from the post office when I realized the check was for $35, not the $3.50 I first supposed.
I invested that money into a writing course and an electric typewriter. It was years before I made that much on one article again.
Yet, frequently I was paid gigantic dividends that are still being spent today.
No, I didn't get rich from a best seller. What I did to make money was get a real job—I became a newspaper reporter. Yes, I loved Pay Day! But pay day wasn't where I really reaped dividends.
Over and over I heard testimonies from people in churches I attended about how God's amazing power intervened in their lives in answer to prayer. I interviewed these people and wrote their stories.
We moved frequently with my husband's job as a telegraph operator for Rio Grande Western Railroad, so we attended quite a few different churches. Every church had people who could tell you These signs follow them that believe (Mark 16:17).
Some Christians mark that scripture out of the Bible because it speaks of "taking up serpents," but if they remember, a serpent latched onto the Apostle Paul, and God miraculously protected him from harm. Paul wasn't playing with the reptile. Signs and wonders have been in the church from the beginning.
I wrote about Ivan Butrick who had a big family and wouldn't be paid if rain kept him from working on a highway.
"For three days, it rained behind the paving machine," Ivan said "We could see rain pouring down, but it never rained where we worked."
I wrote how God stopped a forest fire that changed directions on Grand Mesa near Grand Junction, Colo. Marjorie Eager and her children stood at the window repeating the 91st Psalm. They had no way of escape. Their daddy had gone to fight the fire and he had no idea the wind would take the flames to his family. While they prayed, the wind changed again and the fire turned away.
Lorene Golightly told how her father was healed instantly of blindness. Ennis Surratt became a Christian when a couple of women evangelists came and prayed for "the meanest man in town.
The mother of Gary Hilgers prayed on her deathbed for her sons, that they would meet her in heaven, and years later God reached down one afternoon and touched the son now living in sin. He called his dad on the phone. "Where can I find a church?"
Gary was instantly changed and became a godly husband and father, and deacon in our church.
Now in my older years, I'm blessed again by these testimonies. I've reprinted 55 testimonies and other articles from the Evangel into my new book, What Prayer Can Do.
Encouragement for every day of the year, plus three bonuses. Great dividends!
Summary for What Prayer Can Do
Does God still heal bodies, work miracles and answer prayer?
Ada Nicholson Brownell's latest book, What Prayer Can Do contains amazing testimonies of how God intervenes in people's lives when they pray. Read about a blind man instantly healed, even after he learned Braille. A child with hydrocephalus healed after prayer. A forest fire turned away. Sinful rebellious people changed in a moment. Marriages saved, and many other miracles.
Fifty-five chapters and wonderful testimonies written by Ada Brownell about What Prayer Can Do originally published in The Pentecostal Evangel.
WHAT HAPPENS IF A DESIRED MIRACLE DOESN'T COME? The book begins with an introduction from the author, "Why I Still Believe God Heals, "that explains why she knows God still does miracles even though she lost a daughter to cancer. The article was first published in the online version of Enrichment Journal, a magazine published by the Assemblies of God for Spirit-filled ministers.
Read the article on her blog
Buy link for What Prayer Can Do
DON'T FORGET TO LEAVE A COMMENT TO BE PLACED IN THE DRAWING TO WIN A PRINT COPY OF WHAT PRAYER CAN DO BETWEEN NOW AND SUNDAY, MARCH 11TH AT MIDNIGHT MDT. (US entrants only eligible for print copy)
The eighth child and the sixth redhead in a family of achievers, Ada Nicholson Brownell writes with stick-to-your-soul encouragement from her Missouri home where she lives with her handsome husband who is the father of their five children (one in heaven). Not one of the children have red hair or freckles.
Ada gained experience for being a newspaper reporter as she grew up. The youngest of her parent's eight children, she was the family tattle tale! She retired from The Pueblo Chieftain, but still writes. More than 350 of her articles have appeared in 45 publications. Over 100 of her articles were published in The Pentecostal Evangel.
The author still writes op-ed pieces occasionally for newspapers, creates inspiring pieces for Christian magazines and Sunday school papers, and she has eight books available on her Amazon author page, the latest, What Prayer Can Do.
Visit Ada's blog and her Amazon author page.
Check out Ada's interview on Step Into the Light (February 27, 2018)
Check out Ada's interview on LIterally Speaking (April 7, 2015)
SUBSCRIBE TO PATTI'S BLOG HERE