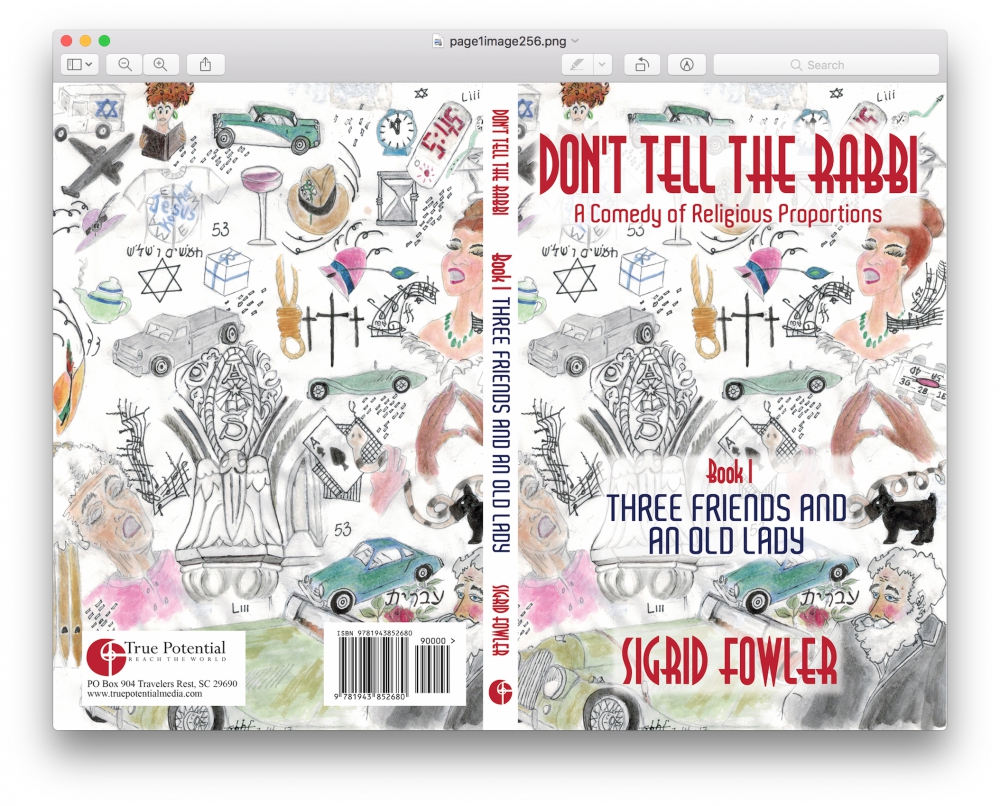 FEATURED BOOK: Don't Tell the Rabbi: A Comedy of Religious Proportions
AUTHOR: Sigrid Fowler
PUBLISHER: True Potential
GENRE: Southern, Literary
SERIES OR STAND ALONE: Book I, Three Friends and an Old Lady
TARGET AGE: Middle age
IT IS MY PLEASURE TO WELCOME AUTHOR SIGRID FOWLER TO THE OVER 50 WRITER. SIGRID TALKS ABOUT HOW SHE ACHIEVED SUCESS AS A WRITER LONG AFTER SHE HAD REACHED THE "OVER 50" MARK.
SIGRID IS OFFERING A GIVEAWAY! SIMPLY LEAVE A COMMENT BELOW TO ENTER THE DRAWING FOR A PAPERBACK COPY OF DON'T TELL THE RABBI.
FIRST NOVEL
by
Sigrid Fowler
I was "over 50" for twenty-seven years before my first novel was published. To friends bemoaning their years, dreading old age, I'd say, "I can't wait till I'm seventy." I was joking, but seventy has come and to my surprise, has proved to be a lovely decade.
The pleasure of my son's presence in my household is first. Sam is a singer songwriter who deals with a treatable condition complicating his life. After losing everything in an apartment fire, he came to live with me. A blessing! I've seen him develop his skills and produce his own CD's, now much in demand among his younger cousins. When he came, I was teaching college English and loving it, writing and editing my novel manuscript on the side. Sam supplied the subtitle, more words than a crowded cover needed, but so hilarious I couldn't say no.
Having a young man around gives me freedom. I do things and go places I wouldn't otherwise—movies that end around midnight, road trips to Texas to visit Tom, the younger son, Sam's brother. This month, we invited everyone to the town gym for cake and a birthday concert by Sam.
I'm enjoying seventy plus and I'm pushing this point: There are many ways to live a satisfying life. Jesus said, "I am the door. If anyone enters by me, he or she will go in and out and find pasture. The thief does not come but to kill, steal, and destroy. I have come that they may have life and have it more abundantly" John 10: 9-10 ( NKJV). My life has often seemed odd. Now, I'm thanking our dear Lord, who knows best and does all things well.
The oddest thing was the night I discovered the South Carolina publisher who would later bring out my book. I was sitting in my room, chiding myself for watching too much television. But a movie title, The List, caught my eye—a film set in South Carolina, a plot about planters who tried to protect their fortunes in a lost war. A reference to Brazil piqued my interest—a reminder that, though they chose not to stay, my great grandfather and his brother were among those who considered relocating to Brazil after the Civil War.
The movie plot "thickened"—to my surprise, an uncompromising look at spiritual warfare in a screen version of Robert Whitlow's novel. The successful Christian writer is sometimes compared to John Grisham, but I'd never heard of him. I watched the movie, even the credits; at the end, this note: "If you'd like more information on the themes of this movie, go to derekprince.com."
I knew this author. Prince wrote on spiritual warfare. I might even have one of his titles. I visited the website then researched Derek Prince and other similar writers. One was an Englishman, David Pawson, who shared many of the ministry passions I found compelling in Prince. Pawson's publisher, True Potential, was in driving distance from the chair where I was sitting. The True Potential Author Bio page listed other writers besides Pawson, writers who shared my spiritual interests.
I wanted to meet these people! It wasn't an impression I'd ever experienced in Internet searches on agents' or publishers' websites as I tried to decide who I am as a writer and who might be my readers. Things were coming clear. On a form requesting information about my project, I responded, March 2017, "Ms. complete."
Boxes from True Potential brought copies of my novel the week I turned seventy-seven—November 17, 2017. This publisher has made me part of the team, has respected my concerns, even used my illustrations. I'm pleased with everything, even an odd sort of financial windfall, the project's "venture capital," earned while teaching fiction to college students. I'm thanking the Lord, Best Selling Author of all time, for the desire, skill, passion, and means to see my nicely published first novel.
Caleb is the model for "over 50s." Only he and Joshua brought a good report of the Land. Later he says: "So Moses swore to me on that day saying, 'Surely the land where your foot has trodden shall be your inheritance and your children's forever because you have wholly followed the LORD my God.' Now, see—the LORD has kept me alive, as he said, these forty-five years . . .. And now, here I am this day, eighty-five years old. As yet, I am as strong this day as on the day Moses sent me . . .. Now, therefore, give me this mountain of which the LORD spoke in that day . . ." -Joshua 14: 9-12 (NKJV). Caleb's request? A mountain infested with giants! Joshua 15: 14a reports: "Caleb drove out the three sons of Anak from there."
Blurb for Don't Tell the Rabbi: A Comedy of Religious Proportions
"SO, WHAT YOU'VE GOT IS ME, BABY. JUST ME TO TELL YOU what happened in Beulah, SC, the year the rabbi found out. But before I get into all that, I should tell you who you're lookin' at. I'm not very big for a pastor's wife and I have red hair. The church won't let me do anything—it's Baptist—so I mainly get into trouble and try not to. When I say "red," that's a euphemism. My hair looks more like some random October maple—and I don't allow 'ginger' …" And so it begins. A wild and inspirational romp in the small town South. An inside look at the relationship (with commentary) between a rabbi, a minister, and an English professor … and what the rabbi discovers long after the whole town is buzzing. If this was a stage play (and it should be) it would be a Tony Award contender! Join the rabbi and friends on this hilarious, inspirational, revealing ride of spiritual enlightenment. Don't Tell the Rabbi is a book you'll want to share with friends.
DON'T FORGET TO LEAVE A COMMENT TO BE PLACED IN THE DRAWING TO WIN A PAPERBACK COPY OF DON'T TELL THE RABBI: A COMEDY OF RELIGIOUS PROPORTIONS BETWEEN NOW AND SATURDAY, APRIL 7TH AT MIDNIGHT MDT.
Sigrid Fowler is a journalist and graduate of Agnes Scott College, Emory University, and Erskine Theological Seminary. Most recently, she studied spoken Hebrew at Hebrew University in Jerusalem. Her articles on literary and other topics have appeared in professional journals; she currently writes a weekly column for The Edgefield Advertiser, Edgefield, SC. Fowler has enjoyed teaching English literature to college students, but her passion is to promote the all-time best seller, the Bible. Her pleasures include the piano, creating party cakes, reading the Bible in languages other than English, drawing, and making road trips in her Miata. Soli Deo gloria! Connect with Sigrid on Linkedin.
SUBSCRIBE TO PATTI'S BLOGS HERE