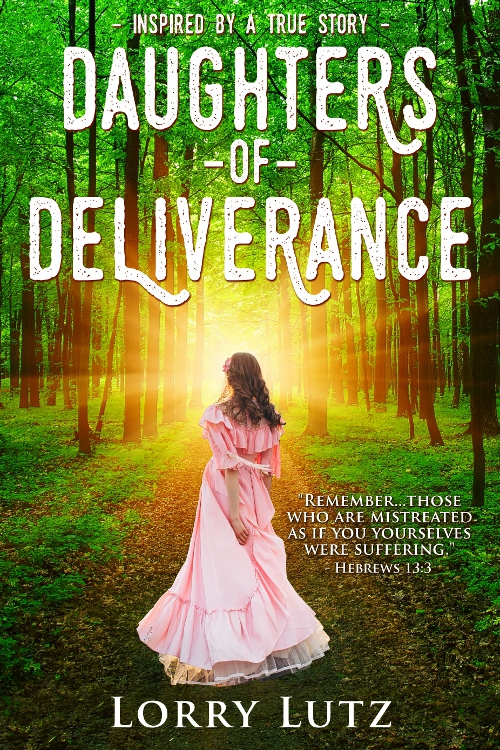 FEATURED BOOK: The Daughters of Deliverance
The Queen's Daughters
AUTHOR: Lorry Lutz
PUBLISHER: Lighthouse Publishing of the Carolinas
(Heritage Beacon Fiction)
GENRE: Historical Fiction
Series or Stand Alone: Series
Target Age: 16 - 116
IT IS MY PLEASURE TO WELCOME AUTHOR LORRY LUTZ TO THE OVER 50 WRITER. LORRY SHARES HER STORY OF PERSEVERANCE IN RESPONSE TO GOD'S CALL TO COMPLETE "A GREAT WORK."
LORRY IS OFFERING A GIVEAWAY! SIMPLY LEAVE A COMMENT BELOW TO ENTER THE DRAWING FOR A PRINT COPY OF DAUGHTERS OF DELIVERANCE.
WHEN AM I TOO OLD TO WRITE?
by
Lorry Lutz
In 1977 when my husband and I were home from South Africa for the summer, I took a fiction-writing class to complete my MA. My professor encouraged us to start outlining a novel from a newspaper article or an experience we'd had. I found myself imagining a forbidden romance between a black girl and a white boy in South Africa under Apartheid.
Dear friend and co-worker for many years, Judy Mbugua and I, last year visiting the "baby elephant nursery" outside Nairobi, Kenya where Judy lives.
When I handed in my outline I told the professor I had posted over my computer, LORD YOU WRITE- I'LL TYPE. He chided me to listen to God's guidance, but that I had to do the writing. I shouldn't blame poor writing on God.
I had been picking up graduate classes here and there, even a few hours in Kenya , and at 51 years of age I walked down the aisle with one of my undergraduate sons and two future grand-daughters-in-law.
Fast forward almost thirty years during which I had published ten books-- about missions, the role of women in the Bible and the church, biographies. And yes, that classroom assignment became my first novel, The Soweto Legacy.
Then a friend challenged me, "Lorry you should write the story of Katharine Bushnell. Her life needs to be told."
I wasn't interested, but to please Mimi I began researching Bushnell, a medical doctor in the late nineteenth century. Bushnell was active in the Women's Christian Temperance Union, and accepted Frances Willard's invitation to work on the streets of Chicago with "fallen women." My research at the Metropolitan University in London unearthed hand-written and carbon copies of reports of girls bought or coerced into the military brothels of the British Army--but no personal letters, journals, or stories of her life. It would have been a dull biography at best. A helpful literary agent suggested I write her story as historical fiction..
As I was about to start writing, Al was diagnosed with cancer during a frightening winter night in the ER. God please don't take him. We started the many trips for chemo. Thank you that he's staying strong and feeling well. We sold our home and moved into a retirement home. Praise God. But in 2008 he peacefully left to be with Jesus. Can I come too?
When I finally started to write again, I became discouraged. I'd never tackled as big a project as this. I needed a publisher, but none was interested. One suggested I hire an editor to bring the manuscript up to their requirements. After a summer of rewriting, they turned me down. I was ready to give up.
The working team met in my "office" the last two days in Kenya to read through the draft of the book I wrote while there for almost two months.
One Sunday morning in December, 2013, I stayed in bed to do business with God. I needed an answer. Other responsibilities were challenging me in my community, yet I hesitated to take them on. God, do you want me to finish these books? Are they really as important as ministering to people here in the retirement community? I need clear guidance if I'm to go on.
That morning Andy Stanley spoke about Nehemiah who had rebuilt Jerusalem's wall. Sanballat and his cronies called him down for a chat, but Nehemiah knew they were planning to harm him.
He responded, "I am engaged in a great work, so I can't come down."
God's Word spoke to me. The "great work" was writing the story about His servant, Katharine Bushnell. I "can't come down" to stop my work until it is completed. Daughters of Deliverance was published three years later; and eight months after that–just five months before my 90th birthday—the sequel, The Queen's Daughters saw the light.
Back Cover blurb for Daughters of Deliverance
In 1886, Katherine Bushnell gives up her medical practice in Denver to work with women living in Chicago's Hell's Half Acre and in the brutal lumber camps of Wisconsin. Her love for God and passion to see women released from bondage lead her to risk her own freedom and reputation for their sakes. Secretly, she visits these women to learn first-hand of the daily trials and torments they endure.
Crushed to see women mistreated, Kate prepares a report of her findings concerning the white slave trade in Wisconsin and throughout the Midwest.
When Wisconsin's governor demands Kate appear before the legislature to defend her damaging reports, she becomes the center of great controversy. Will they believe her report? Will they pass a law prohibiting sex with a girl under sixteen? Will they punish the notorious den keepers?
Or will they brand her a liar?
Back Cover blurb for The Queen's Daughters
Inspired by a dream, Dr. Kate Bushnell writes to Josephine Butler, famous crusader to free women from sex slavery in Victorian England. Kate tells Mrs. Butler she is planning to travel to Great Britain and would like to visit her. Though she doesn't have a cent for the journey from America, God provides, and months later Kate arrives in London.
Once there, Kate and her friend Bess are invited to tea with Mrs. Butler. Kate wonders why God has brought her here. Will she just tell more stories what she saw in the lumber camps?
Then she hears Mrs. Butler say, "When I read of your experiences rescuing girls in the lumber camps in Wisconsin, I thought you might be able to help us in India. We need proof for Parliament that the military entices or buys girls for the brothels on the bases."
Kate sees a streak of fear in her friend Bess' eyes.
Mrs. Butler goes on, "I warn you, you would have to enter as secretly as possible. General Roberts, the commander in chief, would make sure you'd never enter another base again. He is loved by his men but ruthless when his authority is countered." She pats Kate's hand as if to soften her words.
"I'm afraid this will be one of the hardest assignments you've undertaken…"
DON'T FORGET TO LEAVE A COMMENT TO BE PLACED IN THE DRAWING TO WIN A PRINT COPY OF DAUGHTERS OF DELIVERANCE BETWEEN NOW AND SATURDAY JUNE 9TH AT MIDNIGHT MDT.
Lorry Lutz and her husband spent twenty-two years in South Africa working with African youth suffering under Apartheid. Later, as part of the AD2000 Movement, which focused on the gospel for every person and a church for every people group, she coordinated an international network of women leaders.
Lorry earned an MA at Wheaton Graduate School. She and her late husband Allen have five children, one now with Jesus. he lives in an active retirement community in Colorado.
Connect with Lorry: