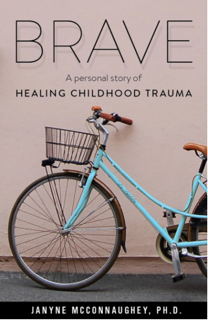 FEATURED BOOK: BRAVE: A Personal Story of Healing Childhood Trauma
AUTHOR: Janyne McConnaughey, Ph.D.
PUBLISHER: Cladach Publishing
GENRE: Memoir
SERIES OR STAND ALONE: First in BRAVE series
TARGET AGE: Adult
IT IS MY PLEASURE TO WELCOME AUTHOR JANYNE McCONNAUGHEY TO THE OVER 50 WRITER. JANYNE SHARES WHY IT TOOK HER SEVERAL YEARS TO FIND HER TRUE WRITING VOICE.
JANYNE AND HER PUBLISHER, CLADACH PUBLISHING, ARE OFFERING A GIVEAWAY! SIMPLY LEAVE A COMMENT BELOW TO ENTER THE DRAWING FOR A COPY OF BRAVE: A Personal Story of Healing Childhood Trauma.
WRITING AROUND THE EDGES
by
Janyne McConnaughey
It wasn't that I didn't write until I was 65; it was that I hadn't found my voice. I taught children's literature courses for over thirty years and while living in Missouri, I became acquainted with the life story of Laura Ingalls Wilder, author of the Little House series. On a tour of her home in Mansfield, MO, the tour guide mentioned her first book was published at the age of 65. That became my goal. In the meantime, I did a lot of writing around the edges.
Around the edges, I wrote hundreds of papers and a dissertation, which my committee actually enjoyed reading. Then I wrote hundreds of lectures for online courses. I could never write a short email because there was always a story to tell—I was definitely a storyteller. All the while, the age of 65 was stuck in the back of my mind. I wrote a couple books and almost got one published, but said some things that I now disagree with. It has been an interesting journey.
I always wanted to write fiction, but I found true stories were often stranger than fiction—and far less predictable. I also loved fantasy and admired Alice in Alice in Wonderland. When I faced a mental health crisis at the age of 60, it did feel as though I fell down a rabbit hole. As I processed and healed during three years of intensive therapy, I wrote BRAVE: A Personal Story of Healing Childhood Trauma . . . and published it the year I turned 65.
The inner world I subconsciously created as a child enabled me to survive, function, and succeed at anything I set my mind to; but also prevented me from processing the trauma I experienced from the age of three to twenty-three. I was a very creative child and a master teacher. The result of this is BRAVE, a book which combines fanciful storytelling alongside the truth about the lifelong effects of trauma and insecure attachment. It is built upon research-based therapeutic methods for healing trauma, but feels like a novel.
Through healing, I found my voice and to my delight it was the voice of a storyteller. The feedback from my readers is often, "Is it OK to say I enjoyed reading a book about trauma?" Yes, because I am first a writer, and then I unearthed my story. Writing is my gift. Healing was God's gift to me. BRAVE is the story of a skillful therapist and tenacious client who both believed healing was possible. It is the gift I gave to the world to give hope for healing.
Yes, I fell down the rabbit hole and when I surfaced, I had a story to tell that was more captivating than any fictional work I could have created. I am almost ready to send the second book to my publisher. It is a companion to BRAVE and right now the title is: A BRAVE CHILDHOOD: JEANNIE'S STORY, Understanding Behavior through the Lens of Trauma and Attachment. Once again, it feels like a story; but it is so much more.
Meanwhile, I live in my 5th wheel at the RV Resort where my husband is manager. My small dog, Weber, is a perfect writer's companion. There seems to be no end to the stories I can tell. Retirement was both a gift and necessity. I now live in anticipation of how God will use my very BRAVE decision to publish this book at 65. Not just any book, but the one buried inside of me for a lifetime while I wrote around the edges.
book cover blurb for BRAVE: A Personal Story of Healing Childhood Trauma
Janyne wasn't exactly sure why she had gone to therapy, but she did sense her wonderful life was a cover for deep inner pain that she called "the dark cloud." During her first EMDR therapy session, three fractured adult parts made a perfect three-point landing in her conscious awareness. Thus began three years of intensive therapy as she fought to heal from sexual abuse that began in a home daycare at the age of three.
Insights into the early wiring of unmet attachment needs as well as dissociative coping mechanisms are integral to this memoir of healing. Both pain and hope are present on every page. Janyne is both vulnerable and triumphant in her writing and will help every reader believe healing from childhood trauma is possible.
DON'T FORGET TO LEAVE A COMMENT TO BE PLACED IN THE DRAWING TO WIN A PRINT COPY OF BRAVE: A Personal Story of Healing Childhood Trauma BETWEEN NOW AND SATURDAY, SEPTEMBER 1ST AT MIDNIGHT MST.
BY LEAVING A COMMENT, YOU GRANT PERMISSION FOR YOUR EMAIL TO BE REVEALED TO THE AUTHOR IF YOU ARE THE WINNER TO FACILITATE RECEIPT OF YOUR BOOK.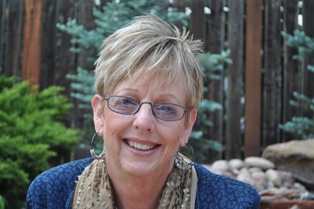 Janyne McConnaughey, PhD, retired from a career in education that spanned forty years—from early-childhood educator to college professor—in order to heal from the effects of the childhood abuse she had suffered. During therapy, Janyne wrote her way to healing and now is redeeming her story by helping others to understand and heal from childhood trauma. Along with Brave: A Personal Story of Healing Childhood Trauma, Janyne is working on two forthcoming sequels. She also keeps busy blogging at Janyne.org, and guest blogging for other organizations that address childhood trauma.
Janyne enjoys full-time RV living with her husband, Scott, at the edge of Garden of the Gods in Colorado Springs, Colorado, and treasures time she spends in the Seattle area with her children and grandchildren.
Find Janyne at:
SUBSCRIBE TO PATTI'S BLOGS HERE