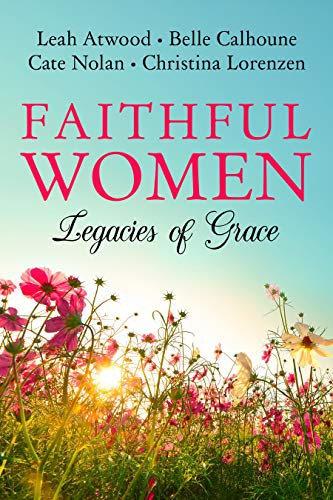 FEATURED BOOK: Faithful Women: Legacies of Grace
AUTHOR: Christina Lorenzen, (with Leah Atwood, Belle Calhoune & Cate Nolan)
PUBLISHER: self published
GENRE: Christian romance
SERIES OR STAND ALONE: stand alone, 4 novellas
TARGET AGE: adult
IT IS MY PLEASURE TO WELCOME AUTHOR CHRISTINA LORENZEN TO THE OVER 50 WRITER. CHRISTINA SHARES THE CONNECTIONS GOD USED TO GUIDE HER NEXT STEPS IN HER WRITING JOURNEY.
CHRISTINA IS OFFERING A GIVEAWAY! SIMPLY LEAVE A COMMENT BELOW TO ENTER THE DRAWING FOR AN EBOOK COPY OF FAITHFUL WOMEN: LEGACIES OF GRACE.
DIVINE CONNECTIONS
by
Christina Lorenzen
Wherever you go I will go; wherever you live, I will live – Ruth 1:16
After my last novella released in April, I had decided to take some time off. I had been feeling overwhelmed from the demands of building a writing career (for today it's not just about writing) and care taking of a family member. I spent a month or so thinking about what my goals for my writing were and where I should go next. Not sure where I felt led next, I decided to take time to read, watch movies and pay attention to life around me.
In early June I received a message from a friend and fellow author, with a proposal to join her group in writing and publishing a novella collection based on women of the Bible. In that instant, I not only knew my answer was yes, but I knew exactly which woman I wanted to write my story about – Ruth.
I can't even count the number of times I have read the Book of Ruth. It's one of several stories in the Bible that inspire me and give me hope. Strong women inspire all women during times of trial. Ruth, and her mother-in-law Naomi, were that inspiration for me. The project called for a modernized version of the Biblical story using the same name for our heroine. I was eager to get writing.
Like Ruth in the Bible, Ruth Baker's life has changed after having lost her husband, her job and ultimately the home she shared with her husband Joseph and daughter Mara. When a call for assistance comes from her grandmother, Eleanora Duncan, Ruth is led to believe this is what she should do. She and six-year-old Mara make the long car ride (a journey not quite as long as Ruth and Naomi's in the Bible) to the seaside town of Pebble Shores to help Ruth's grandmother as she prepares to transition from her home to a room in an assisted living facility. Already having packed up the house, Eleanora Duncan is now living in the small guest cottage on the property. Ruth is prepared to stay as long as she is needed. What she isn't prepared for is the new owner of her grandmother's home, Eli Hamill, becoming so involved in all their lives – especially her six-year-old daughter's.
I believe in divine connections. I believe in God's timing. What a blessing writing Ruth's Garden for this collection, Faithful Women: Legacies of Grace, was. At a time when I was, like Ruth, unsure of how to proceed, God answered through this invitation from my fellow author in this collection, Belle Calhoune. It's a blessing to be connected through these three women who have authored stories that readers are already saying have inspired and touched them. I hope you'll read Faithful Women: Legacies of Grace too, and that it blesses you in whatever journey you are traveling right now.
Blurb for Faithful Women: Legacies of Grace
Four Christian romance novellas inspired by legendary Biblical women.
Eve: Eve Douglass has worked hard to recover from opioid addiction. In doing so, she's reinvented her life in Bay Shore, Cape Cod and held fast to her dream of one day opening her own bakery. When she meets handsome veterinarian, Flynn Samuels, Eve finds herself struggling with her attraction to him. Ever since the tragic death of her ex-boyfriend, Adam, Eve has steered clear of relationships. But Eve knows God wouldn't want her to walk through life alone. As she and Flynn begin a relationship, Eve struggles with the knowledge that she still needs to make amends to those she's wronged.
Hannah: Can God bring together what man has torn asunder?
Hannah and Kane Winthrop had it all—until the challenges of infertility drove a wedge between them and threatened their marriage.
Like her biblical namesake, Hannah is a woman of prayer, and she never stopped praying for a child.
Sometimes God answers our prayers in unexpected ways, and for Hannah that means a chance to be the guardian of two young children while their mother is deployed.
Will this opportunity give Hannah and Kane a chance to rebuild their marriage, or will it reinforce their differences and drive them apart forever?
Ruth: Ruth Baker has lost her husband. Unsure of what the future holds, she clings to her faith and her six-year-old daughter, Mara, when she travels to her grandmother's beachside home in Pebble Shores.
Eli Hamill has felt the pull to put down roots. After years of buying and selling houses, he's doing something he's never done before – living temporarily in the beachside house he bought from an elderly widow. The last thing he's looking for is an instant family.
Can an old house filled with loving memories and a sweet little girl show two lonely people what the future can hold?
Mari: A chance encounter in the aftermath of a storm takes Mari Armfield on a path of discovery that leads to a newfound faith in God. As her faith grows, she realizes that her life can't stay the same. She has tough decisions to make, including the future of her relationship with her boyfriend Steve.
Steve doesn't believe in God, but he'll support Mari in her new walk. As her faith deepens, his concern grows. How can their relationship survive paths that aren't compatible?
Mari is a fictional novella inspired by the biblical woman at the well.
DON'T FORGET TO LEAVE A COMMENT TO BE PLACED IN THE DRAWING TO WIN AN EBOOK COPY OF FAITHFUL WOMEN: LEGACIES OF GRACE BETWEEN NOW AND SATURDAY, SEPTEMBER 8TH AT MIDNIGHT MDT.
BY LEAVING A COMMENT, YOU GRANT PERMISSION FOR YOUR EMAIL TO BE REVEALED TO THE AUTHOR IF YOU ARE THE WINNER TO FACILITATE RECEIPT OF YOUR BOOK.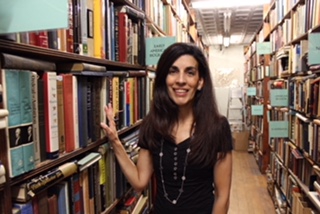 Christina Lorenzen started writing as a young teen, jotting stories in wire ring composition notebooks. Her first typewriter made it faster to get all those stories out of her head and down on paper. Her love of writing has sustained her through a myriad of jobs that included hairdresser, legal secretary, waitress and door-­to--door saleswoman.
Luckily for her, writing proved to be successful and a lot less walking than going door to door. She loves to write the types of stories that she loves to read and watch on her favorite channel, The Hallmark Channel. Quaint small towns and happily ever afters are a guarantee. She's the author of eight books. When she isn't writing or reading, she can be found walking her dog, talking to her herd of cats and spending time with her family.
Visit Christina online:
subscribe to patti's blogs here