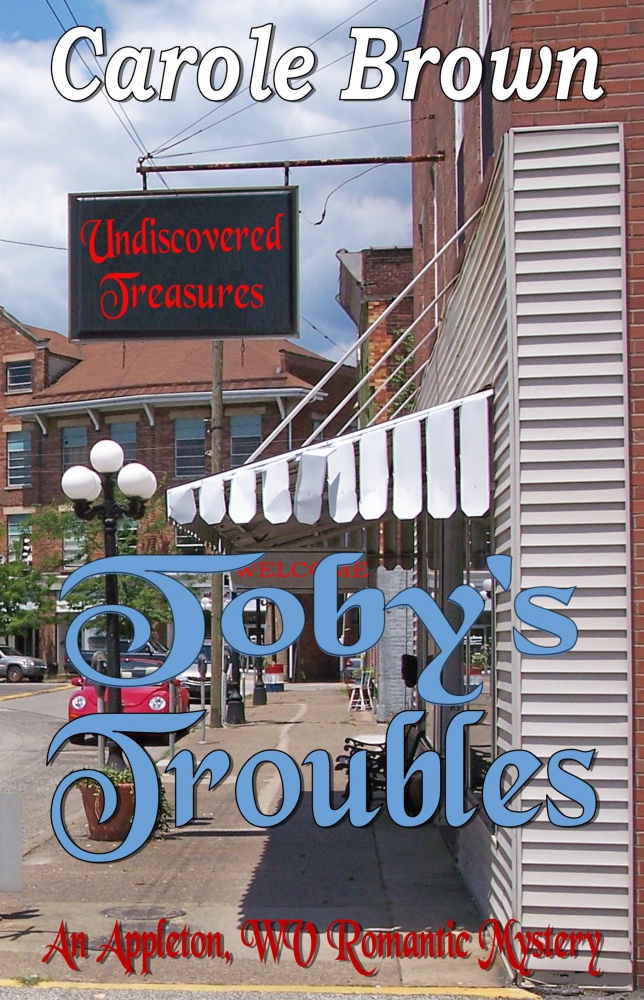 FEATURED BOOK: Toby's Troubles
AUTHOR: Carole Brown
PUBLISHER: Story and Logic Media
GENRE: Romantic Mystery
SERIES OR STAND ALONE: Series (4th book in the Appleton, WV Romantic Mysteries)
TARGET AGE: 15 up
IT IS MY PLEASURE TO WELCOME AUTHOR CAROLE BROWN BACK TO THE OVER 50 WRITER CAROLE SHARES REASONS TO KEEP GOING AND NEVER GIVE UP ON YOUR WRITING DREAMS.
.
CAROLE IS OFFERING A GIVEAWAY! SIMPLY LEAVE A COMMENT BELOW TO ENTER THE DRAWING FOR A KINDLE COPY OF TOBY'S TROUBLES.
THE DAY I ALMOST QUIT
by
Carole Brown
It was a dark and stormy night.
Yeah, I know that's cliche. But I also know I experienced it, and that's my story—I'm sticking to it.
You see, I almost—one day quite a few years ago—quit writing. Over fifty, I knew I'd never be published, that I really couldn't write anything appealing to others, that it was worthless to spend my time writing, that I'd never get a publishing contract.
But, an elderly woman who was like a second mother to me, gave me a bit of advice I've never forgotten. She wasn't a writer, but smart and kind. Her words to me rang true, and though simple, were wise and just what my confused, discouraged self needed.
"Don't quit."
Easy to say? Yes. But for those who truly have the calling—it's the truth.
Pursue your dreams. Big or little, they are YOUR dreams. Doesn't matter how old you are—or young. Why struggle and endure something you hate, that you loathe doing every day?
Seek God's will. He does have a plan for you. His journey may not be what you thought it would be, but He knows best. He knows what will be the greatest opportunity for your success in His eyes and for your happiness. Remember, not everyone's journey is the same. Don't cast longing glances at others' journeys. They are not yours. Realize and accept your path, and be happy.
Never quit. Writing is hard at times. Life, illness, financial problems, family, and many other obstacles can prevent us from writing, but don't let discouragement force you to quit. Halt, If you must, for a period of time, but as soon as you can, pick up and continue writing. Fellowship with other writers, take classes online or in person, seek one or two people who not only encourage you, but who are faithful to tell you how you can improve.
My story ending? Within months, I had a contract with a traditional publishing company. That book not only was published, but went on to become an Amazon Number One book in it's category. It also won or finaled in many contests, and has blessed and encouraged hearts struggling with the same issues as the book portrayed. Had I quit when I felt like it, it might never have obtained such rewards. Had I quit, I might never have been blessed and humbled with its success.
Today, with the release of my latest book in July (Toby's Troubles) I am the author of ten books. I have a short story in an anthology releasing in September (Christmas Angels), and the possible release of my 12th book (Daffy's Duck) coming up later this year. To say I'm happy and excited is a mild description.
The scripture I felt was mine for this year is found in Jeremiah 29:11 (KJV): "I know the plans I have for you," declares the Lord. "Plans to prosper you and not harm you, plans to give you hope and a future."
What joy! He delights in this. What hope! He hears our cries and prayers and just when we think we can't struggle any longer...he's there. What assurance! We can rest in the knowledge that he has his best planned for us.
Don't ever give up on the brink of a miracle. It may be closer than you think.
Toby's Troubles Blurb:
Everyone loves Toby Gibson. A co-owner of Undiscovered Treasures, a unique shop of antiques, collectables and junk, Toby is friendly, generous to a fault, the director of the local plays in Appleton and supports his church's youth functions. But the minute his sister, Caroline and her new husband, take off for their honeymoon, a "ghost" begins to haunt the shop—or maybe it's just an intruder. If so, Toby has no idea for what the thing is looking. To add to his troubles, he suspects Amy, not only is bidding for the property he's wanted forever, but is in love with him. And he's not interested.
Amy Sanderson who owns the only flower shop in Appleton—Bloomin' Life—is drawn into capturing Toby's "ghost" when her own business is damaged by a destructive intruder. Having loved Toby since a teenager, she's more than willing to join forces with him. But she has no interest in being his best friend or a sister to him. And if she has to resort to schemes of outbidding him at his frequent auction attendances to get his attention, then so be it. She can be just as stubborn as the man who's determined to ignore her love.
In between the break-ins, destruction of property, thefts and personal competitions against each other, Amy and Toby work together to find the thief who seems so determined to find a valuable item, he'll stop at nothing.
DON'T FORGET TO LEAVE A COMMENT TO BE PLACED IN THE DRAWING TO WIN A KINDLE COPY OF TOBY'S TROUBLES BETWEEN NOW AND SATURDAY, SEPTEMBER 15TH AT MIDNIGHT MDT.
BY LEAVING A COMMENT, YOU GRANT PERMISSION FOR YOUR EMAIL TO BE REVEALED TO THE AUTHOR IF YOU ARE THE WINNER TO FACILITATE RECEIPT OF YOUR BOOK.
Besides being a member and active participant of many writing groups, Carole Brown enjoys mentoring beginning writers. An author of ten books, she loves to weave suspense and tough topics into her books, along with a touch of romance and whimsy, and is always on the lookout for outstanding titles and catchy ideas. She and her husband reside in SE Ohio but have ministered and counseled nationally and internationally. Together, they enjoy their grandsons, traveling, gardening, good food, the simple life, and did she mention their grandsons?
Connect with Carole online: