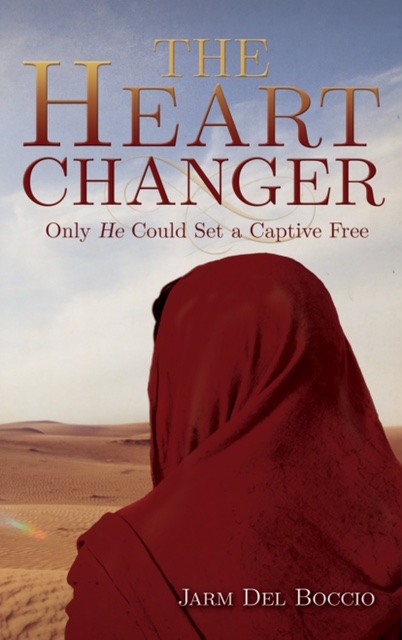 FEATURED BOOK: The Heart Changer
AUTHOR: Jarm Del Boccio
PUBLISHER: Ambassador International
GENRE: MG Historical Fiction
SERIES OR STAND ALONE: stand alone
TARGET AGE: 8 to 11
IT IS MY PLEASURE TO WELCOME AUTHOR JARM DEL BOCCIO TO THE OVER 50 WRITER. JARM SHARES THE WAYS GOD PREPARED HER THROUGHOUT HER LIFE TO FULFILL HER "SILVER YEARS" PASSION.
JARM IS OFFERING A GIVEAWAY! SIMPLY LEAVE A COMMENT BELOW TO ENTER THE DRAWING FOR AN EBOOK COPY OF THE HEART CHANGER.
MY SILVER YEARS PASSION
by
Jarm Del Boccio
"It's never to0 late to begin again."
That's my motto! If the Lord opens the way, and directs through the Holy Spirit, then move forward in that confidence.
I would say an 'over 50' woman has more to offer than a younger writer. More wisdom. More experience. And sometimes more nerve.
I can certainly see how God paved the way for my "silver years" passion. As I child, I loved to read, act out musicals and keep a diary. Never mind that in those early days much of what I wrote was along the lines of 'Today was a good day" or "Today nothing special happened."
I was told by my third-grade teacher I wrote well. Back then, I had written one story and a poem — both about animals. Creatures were my friends. Since I was an only child, I owned a variety of pets, from cats and dogs, to ducks and water newts.
I also read quite a bit — and early. My mother said she used books to bribe me into potty training. Give me a book, and I could sit for hours.
But, as the years went by, I had little time to write. And come to think of it, I didn't read often either. Until I travelled to the other side of the world, to teach three missionary children in an isolated bush village of Papua New Guinea. There, I read (out of boredom at times) and began to gather accounts of my life in the bush and share them in newsletters sent to my friends, family and church members.
Two years after I arrived home from the mission field, I was married, and not long after, adopted our two children from Russia. Once again, I had very little time to read and write, other than an occasional entry in diaries I had begun for my son and daughter, and my own personal journal.
In 2008, my elderly mother, three months short of her 100th birthday, died of a stroke. Since there was only my mother and me (my dad passed away when I was four) to bring my past to mind, I panicked, worried I could not remember all the details about my dear father and my childhood. That's when it occurred to me I could document what I remembered before events slipped my memory. And that's where the seed of inspiration began.
After ten years of home educating my children through HS, they moved on to college. Our busy home had now become a quiet haven when my fledgling students left the nest, so I got right to work! It was now 2014.
Somehow, in God's sovereignty, I was connected with a kidlit contest — PIBoIdMo (Picture Book Idea Month), where we were challenged to come up with a picture book idea each day for one month. From there, after winning a free critique, I was further propelled into the children's writing world with 12x12 (Writing 12 picture books in 12 months). This group was a tremendous support and source of information and inspiration for me, and I began my journey writing historical fiction picture books — my passion. But, after months and months of rejected submissions to editors and agents, and a tip from an author friend to write for the middle-grade (I was fond of embellishing the text, which is a no-no for picture books), and voila — I found my sweet spot!
Over a period of four years, I wrote four middle-grade historical/Biblical novels, all in the process of revision and submission at this point. But last Spring, via a Twitter event (and yes, I've taught myself social media, blogging, and a multitude of other techie things), I signed a contract for my debut MG Biblical fiction, The Heart Changer, due to release with Ambassador International on April 26th. Although I was thrilled, this was not the way it was supposed to be! I wanted to be salt and light to the secular publishing world, but obviously the Lord had other plans. This verse came to mind: "The heart of man plans his way, but the Lord establishes his steps." Proverbs 16:9 ESV
Only He knows my future, so I need to persevere and leave the future to Him!
Blurb for The Heart Changer:
Can an Israelite captive, wrenched from all she loves, serve the very man who destroyed her village?
Miriam is asked to do the impossible: serve the wife of Naaman, commander of the Syrian army. Clinging to treasured memories of home and faith, Miriam faces captivity with bitterness. Little does she know the Heart Changer is preparing her for a greater mission — far beyond what she could imagine.
DON'T FORGET TO LEAVE A COMMENT TO BE PLACED IN THE DRAWING TO WIN AN EBOOK COPY OF THE HEART CHANGER BETWEEN NOW AND SATURDAY, APRIL 6TH AT MIDNIGHT MDT.
BY LEAVING A COMMENT, YOU GRANT PERMISSION FOR YOUR EMAIL TO BE REVEALED TO THE AUTHOR IF YOU ARE THE WINNER TO FACILITATE RECEIPT OF YOUR BOOK.
Jarm ('J' pronounced as a 'Y') Del Boccio finds her inspiration in everyday life, but in particular, when she travels the globe, observing the quirky things that happen along the way. Focusing on the lives of characters from the past, Jarm's passion is to Breathe New Life into the Pages of History. You can learn about those experiences in her blog, Making the Write Connections , or her author's website:/ Jarm is content with the journey God has placed her on, and lives with her husband, daughter and son (when he lands at home), in a tree-lined suburb of Chicago. Connect with Jarm online: