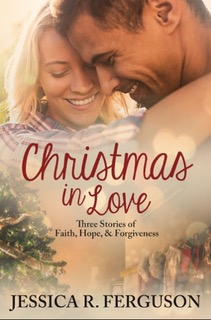 FEATURED BOOK: Christmas in Love:
Three Stories of Faith, Hope & Forgiveness
AUTHOR: Jessica R. Ferguson
PUBLISHER: Self-Published
GENRE: Romance Fiction/Short stories
SERIES/STANDALONE: Standalone
TARGET AUDIENCE: Adult
PATTI'S PORCH WELCOMES AUTHOR JESSICA FERGUSON. THINK YOU'RE TOO OLD TO DEVELOP A WRITING CAREER? JESSICA'S WRITING JOURNEY SAYS DIFFERENT.
JESSICA IS OFFERING A GIVEAWAY! SIMPLY LEAVE A COMMENT BELOW TO ENTER THE DRAWING FOR AN EBOOK COPY OF CHRISTMAS IN LOVE.
NEVER TOO OLD TO WRITE
by
Jessoca Ferguson
I'm classified as a septuagenarian (between 70 and 79). Every time I say or write those words, I feel faint. I got here fast. Way too fast. I still feel as though I can climb a tree or do cartwheels, though I'm smart enough not to try. I probably wouldn't be too successful.
But I've had a lot of little successes through the years when it comes to writing for newspapers and magazines, selling books to Silhouette Romance and The Wild Rose Press, coaching and teaching writing, and speaking to writer's groups and conferences. I've never worried about being too old to write.
So I agreed to write a play for my church. Oh, not right away; I had to be talked into it.
Tip: Do what scares you!
I realized it was God's will for my writing, and He was guiding me all the way through Acts I, II & III. He took a character I had in my head for several years, gave me the plot, the secondary characters, and wonderful witty dialogue. I'd never written a play before and I think it's probably the writing I'm most proud of.
Except … three days after the last performance, I passed out on the church parking lot—no pulse. Was God giving me this huge success then taking me home?
When God finally answered my husband's desperate prayers, I crawled into the little EMT vehicle and we meandered through holiday traffic to the hospital. (I'm not trying to be funny here. It wasn't at all like those TV shows!) Anyway, I stayed in the hospital through Christmas. While there, God gave me a little encouragement. A short story was accepted in an anthology to be published by Laughing Lemur Press. I felt like God was saying, "Hey, Jess, there's more writing and publishing in your future so don't worry." On January 8, 2017, I had open heart surgery.
The following year, I tweaked the play and wrote myself in. If you'd like to watch A Christmas Love Story about a homeless girl named Zita, you can see it here. The music is wonderful—certainly more wonderful than my debut acting skills.
Another thing this old girl is excited and proud of is my first short story published in Woman's World Magazine. It hit the stands right around my 71st birthday. I've tried to get published in WW off and on for almost thirty years. I was ecstatic when I read the acceptance email from the editor.
Tip: Never, ever give up!
I love writing. I love seeing my words in print—they don't even have to have my name on them. In my older years, writing and publishing has become sweeter to me. I see more opportunities out there and I'm not trying to impress anyone the way I did when I was younger.
Best Tip: You are never too old to pursue your dreams.
God blessed me with an enormous amount of encouragement for others. If you're a writer who feels down and out, holler at me with your thoughts and insecurities. I know beyond a shadow of a doubt, if I can do this writing thing … so can you.
These days, I'm taking off on my own with my first Indie book, Christmas in Love, Three Stories of Hope, Faith & Forgiveness. These stories are dear to my heart. I hope you'll check them out and enjoy.
Have a blessed Christmas, my writing and reading friends.
Story Blurbs for Christmas in Love
A CHILD WAS BORN
A cowboy bearing gifts crashes a BFF Christmas retreat and gets more than he bargained for—the gift of a lifetime.
IF YOU BELIEVE
When an ice artist becomes the main event at the extravagant Louisiana Christmas Weddings Gala, the whole town benefits ... but especially the girl he left behind.
FOR LOVE BY OWNER
To Laney Johnson, Christmas is a waste of valuable work days and prayer is setting oneself up for disappointment. Dillon Connor is determined to share his faith, hope and love to prove her wrong.
DON'T FORGET TO LEAVE A COMMENT TO BE PLACED IN THE DRAWING TO WIN AN EBOOK COPY OF CHRISTMAS IN LOVE BETWEEN NOW AND SATURDAY, DECEMBER 21ST AT MIDNIGHT MST.
BY LEAVING A COMMENT, YOU GRANT PERMISSION FOR YOUR EMAIL TO BE REVEALED TO THE AUTHOR IF YOU ARE THE WINNER TO FACILITATE RECEIPT OF YOUR BOOK.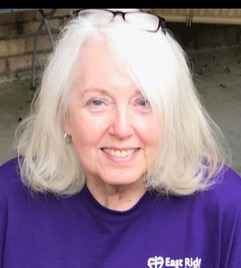 Jessica R. Ferguson is a freelance writer, and the author of several novels and novellas—both published and unpublished. She fantasizes that one day she'll wake up and all those manuscripts on her hard drive will be, miraculously revised, proofed and edited. In her spare time, Jess enjoys Bible Studies, bean bag baseball, breakfast/brainstorming with friends and playing with her retired husband. She's a member of RWA, ACFW, FHL, SinC-Guppies, and The Writers View—to name a few. She enjoys encouraging other writers.
Connect with Jessica:
SUBSCRIBE TO PATTI'S BLOGS HERE