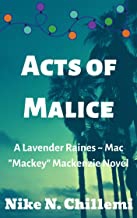 FEATURED BOOK: ACTS OF MALICE
AUTHOR: Nike N. Chillemi
PUBLISHER: Crime Fictionista Press (Nike N. Chillemi, publisher)
GENRE: Murder Mystery/International Crime Fiction
SERIES OR STAND ALONE: First in a series
TARGET AGE: 35 years old and up
IT IS MY PLEASURE TO WELCOME AUTHOR NIKE N. CHILLEMI TO THE OVER 50 WRITER NIKE SHARES HER INTERESTING AND INTRIGUING OVER 50 CHARACTERS PORTRAYED IN HER LATEST NOVEL, ACTS OF MALICE.
NIKE IS OFFERING A GIVEAWAY! SIMPLY LEAVE A COMMENT BELOW TO ENTER THE DRAWING FOR A KINDLE EBOOK COPY OF ACTS OF MALICE
CHARACTERS OVER 50
by
Nike N. Chillemi
ACTS OF MALICE has three over-fifty secondary characters that readers have commented about fondly. These ladies bring a touch of humorous grace to the story.
Widowed sisters Abigail Hunter and Olivia Davis are both in their early seventies. They own and operate Funky Boutiking, an eclectic vintage/thrift store that sells art objects, jewelry, kitchen and dining room ware, and small furnishings. They are second cousins to heroine Lavender Raines' murdered husband. Their store is on prime real estate and a short walk from the beach. Unscrupulous investors and developers employ various tactics, trying to buy it and the store next to it. Abigail and Olivia do not wish to sell Funky Boutiking. Abigail is business and detail oriented. Olivia is a sweetheart and a fine baker. She likes nothing better than to serve her favorite customers tea and whatever confection has just come out of her oven. Abigail, the tall, more sever one plays Budd Abbott to short and plump Olivia's Lou Costello…albeit, they are much more refined.
Plus-size, sixty-something Susan Burkhart has been widowed for a number of years. She is jovial with a sunny outlook, though she can be quite outspoken if riled. She wears her hair in a loose silver knot on the top of her head that sways when she walks and bobs when she laughs. Susan ran a business with her deceased husband Donald. His cancer took the business and their bank accounts. She managed to hold onto the house but now must do nearly all of her personal shopping at the Light House Women's Shelter Thrift Store. Susan and Lavender belong to the same widows' support group. The subject of widows going on after the death of their husbands is a sub-theme in the novel.
Then there is Paige Strickland, Lavender's sixty-something mother…who cannot be left out. She is the antagonist in this story. Nothing matters more to dowager Paige than to remain on society's A-List in Virginia Beach, the city where her late husband purchased an estate for her with a massive colonial house. She is an expert at causing Lavender distress, though it's obvious they both love each other.
Blurb for ACTS OF MALICE:
ACTS OF MALICE: A taut and compelling classic murder mystery with a national security underlying theme. Interpersonal relationships, greed, dry humor. Unrequited Love. Uplifting.
Lavender Raines gets the 'doorbell ring' no wife ever wants to get. Her husband has been brutally murdered, and the FBI is more secretive than helpful. The problem is, his body was found in Caracas when she thought his business trip had taken him to New Orleans.
Mackenzie just opened a second beach resort-town restaurant, this one in Ribault Beach, Florida…but now the clandestine national security organization that from-time-to-time sends him on covert missions wants him to find Lavender's husband's killers.
Forces from within the "Deep State" have shaped circumstances that will alter the course of both their lives. Then a local man is murdered. Lavender and Mackey are polar opposites. He is emotionally shut down about his life, but protective of others. She is a pillar of strength in her family, but distrusting of Mackey and guarded around him. Can they find common ground amidst this treachery and turmoil?
DON'T FORGET TO LEAVE A COMMENT TO BE PLACED IN THE DRAWING TO WIN A KINDLE EBOOK COPY OF ACTS OF MALICE BETWEEN NOW AND SATURDAY, APRIL 4TH AT MIDNIGHT MDT.
BY LEAVING A COMMENT, YOU GRANT PERMISSION FOR YOUR EMAIL TO BE REVEALED TO THE AUTHOR IF YOU ARE THE WINNER TO FACILITATE RECEIPT OF YOUR BOOK.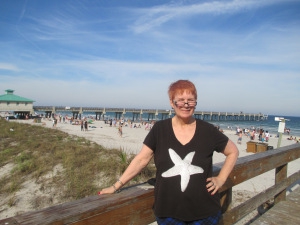 Nike N. Chillemi writes classic murder mysteries/detective novels. It's been said she writes literature that reads like pulp fiction. Plenty of action, a dash of grit, wry humor as her characters navigate through situations and relationships. There's usually a national security/public safety underlying theme to her work with an uplifting message. She likes her bad guys really bad, her good guys smarter and better. Her newest endeavor is ACTS OF MALICE.
Nike is the founding board member of the Grace Filled Fiction Spotlight (formerly the Grace Awards) and its Chair -- a Christian fiction promotional site and a platform to promote excellence in Christian fiction. She has been a judge in mystery and thriller categories in the Carol Awards, Genesis Awards, First Impressions Awards, and also the Inspy Awards. She has a very active blog that delves into murder mystery writing, Christian fiction, and many of the challenges we all face in life. She lives in NE coastal Florida with a cadre of pets and revels in being a Floridian. She's a member of American Christian Fiction Writers (ACFW) and the John 3:16 Marketing Network.
Contact Nike:
Amazon Author Page : https://www.amazon.com/Nike-N-Chillemi/e/B0050ZD44O/ref=dp_byline_cont_ebooks_1
Nike N. Chillemi ~ mystery & a merry heart https://nikechillemi.com/
Facebook: https://www.facebook.com/nike.chillemi
Twitter: @NikeNChillemi:
LinkedIn: https://www.linkedin.com/in/nikechillemi/
SUBSCRIBE TO PATTI'S BLOGS HERE