FEATURED BOOK: They Met Jesus (adult series)
A Child's Life of Christ (Child's series)
(Same chapters, different audience)
AUTHOR: Katheryn Maddox Haddad
PUBLISHER: Northern Lights Publishing House
GENRE: Biblical historical novel and Biblical storybook
SERIES OR STAND ALONE: Two series, same books ~ for adults & children
TARGET AGE: Children ages 3 - 12
IT IS A PLEASURE TO WELCOME AUTHOR KATHERYN MADDOX HADDAD TO THE OVER 50 WRITER. THIS AMAZING SOON-TO-BE OCTAGENARIAN SHARES THE PROMISE SHE KEPT FOR OVER FOUR DECADES.
MY 43-YEAR PROMISE
by
Katheryn Maddox Haddad
As with most writers, I began in my childhood with poems. I was actually "published" when I was ten and one of my poems appeared in our town's weekly newspaper. I still have some of the many four-line poems I wrote at that time.
When I was twelve, I decided to set the book of Revelation in the Bible to rhymed verse. I was just curious to see if I could do it. I have no idea whatever happened to it.
In church, when the preacher said something that struck me, I got out pencil and paper and put it to prose ~ just a mingling of his thoughts and my thoughts and seeing how ethereal I could make them. Then I'd show my girlfriends.
One day when we were young starry-eyed teens, my girlfriends and I were talking about something I wrote when I dared one of them: "I'll bet I can write something to make you cry." She took the challenge, I wrote it, I gave it to her, and she cried.
It was all still just a game to me like budding artists of any kind as children. Though I had fun writing, I never took it seriously.
When I was seventeen, I entered college. I continued to dabble in writing whenever I heard someone say something that, to me, was dynamic. One day I wrote a detailed account of Jesus' death on the cross. As always, I showed it to some of my college girlfriends in the dorm. They began saying, "You should write a book about the life of Christ." Uh, well, that wouldn't be dabbling. I finally told them, "I'm too young. I haven't lived enough of life. I do not understand much about life yet." When they urged me to anyway, I satisfied them by saying, "When I am sixty, I'll write the book."
Well, through the years I would get out my original MS and play with it. Then I'd put it away in my closet until I wanted to dabble again. This happened about once every five years. Finally, at age 59, after having been widowed, I remarried. What would I do with my new life?
When I was sixty, I remembered my promise, and I wrote it.
But I lost all control. It had been bottled up inside of me for forty-three years. I ended up writing eight books on Jesus and 100 people he met and struggled with. At the end of each adult chapter is Life Application. The series is called They Met Jesus. About five years ago, I wrote the same stories on a child's level and named that series A Child's Life of Christ. At the end of each child's chapter is Think & Do.
And now it is being considered for a TV series.
Book One, Star Song:
Adult version in EPUB 99 cents and paper book recently lowered to half price at $7.50.
Child's version in EPUB 99 cents and paper book recently lowered to half price at $4.50.
My website gives bookseller options. https://inspirationsbykatheryn.com
If you're still in the dabbling stage of your first book, (1) make yourself a promise of when you will write it, (2) put this promissory note where you pile your dabblings, "I promise to write this book when _______________." Then you will.
SERIES BLURB:
Come meet the people who met Jesus. You are one of them. Probably you are several of them. Go ahead and struggle with him as they did. Laugh. Cry. Do mental battle with him. Emotional battle too. Fight for your faith as they fought. Pause to listen for what you've never heard before. Then touch Jesus.
This is the story of faith in the impossible. Hope in the inconceivable. Love for the invincible. It is the dreams of youth, the desperations of infirmity, the hopes of age, and the song of eternity.
Follow the suspense as each person in Jesus' life comes to terms with who they are, and who Jesus is. Jesus accepts them as they are. But can they accept themselves as they are? More than that, can they accept Jesus as he is? Both God and man? Both Creator and created? Both King and servant?
It is the story of doubts explained away, animosities melted away, misunderstandings cleared away. It is your story and mine. For deep within each of us is everyone who ever met and struggled with Jesus.
Do you have the courage to enter the lives of first-century strugglers?
To sometimes go into their heart as their disbelieving-self struggles with their believing-self? Even in His infancy, Jesus awoke in them a longing that some did not even know they had. Come along ~ if you dare ~ on a journey when THEY MET JESUS and the hearts of those who sometimes doubted.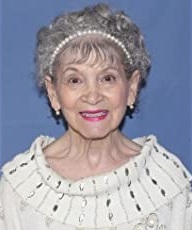 Katheryn Maddox Haddad is the author of 17 historical novels, 28 children's storybooks, and numerous non-fiction books totaling sixty books with twelve more in her head fighting to get out.
She was born in the cold north and now lives in Arizona where she basks in 100-degree weather, palm trees, cacti, and a keyboard with most of the letters worn off.
On May 14 this year, she will turn eighty. She declares, "I have only just begun!"
Connect with Katheryn:
Website: https://inspirationsbykatheryn.com/historical-novel-about-jesus/book-1-star-song-adult-childs-versions/
Facebook: bit.ly/FacebooksKatherynMaddoxHaddad
Linkedin: http://bit.ly/KatherynLinkedin
Twitter: https://twitter.com/KatherynHaddad
Pinterest: https://www.pinterest.com/haddad1940/
Goodreads: https://www.goodreads.com/katherynmaddoxhaddad
Website for possible TV series: https://comeflywithme-tv.com
SUBSCRIBE TO PATTI'S BLOGS HERE