FEATURED BOOK: A Christmas Homecoming: A Novella
AUTHOR: MaryAnn Diorio
PUBLISHER: Pelican Book Group (Harbourlight Books)
GENRE: Women's Fiction
SERIES OR STAND ALONE: Stand Alone
TARGET AGE: 18+
IT IS MY PLEASURE TO WELCOME AUTHOR MARYANN DIORIO TO THE OVER 50 WRITER. MARYANN SHARES SOME INSPIRATION SPARKED BY ONE OF HER FAVORITE POETS.
MARYANN IS OFFERING A GIVEAWAY! SIMPLY LEAVE A COMMENT BELOW TO ENTER THE DRAWING FOR AN EBOOK COPY OF A CHRISTMAS HOMECOMING.
TAKING THE HIGH ROAD
by
MaryAnn Diorio
One of my favorite poems is Robert Frost's The Road Not Taken. You may remember its closing lines::
Two roads diverged in a wood, and I,
I took the one less traveled by,
And that has made all the difference.
Often in our writing career, we come to a fork in the road, as described by Frost in his magnificent poem. One fork I call the High Road and the other fork I call the Low Road. The High Road is the road of integrity and virtue, the road marked by obedience to God's way of conducting our writing career. The Low Road is the road of compromise and rebellion, the road marked by disobedience to God's way of conducting our writing career.
For example, there are times in our writing career where we may be tempted to water down the Gospel for the purpose of landing a contract. Or we may be tempted to stretch the limits of decency in the language or content of the fiction we write. Whatever the temptation, we have a choice to take the High Road or the Low Road.

Are you at a crossroads in your writing career now? Are you trying to decide which road to take as you move forward in your journey? Are you being tempted to compromise God's Word for the sake of a sale? If so, I urge you to take the High Road, the road marked by integrity and virtue. The road that will not allow compromise for the purpose of success.
The road that glorifies God.
And that makes all the difference.
Copyright 2014 by MaryAnn Diorio, PhD, MFA. All rights reserved.
Back Cover Blurb for A Christmas Homecoming:
Seven Christmases have passed since Sonia Pettit last heard from her daughter Jody. Since Jody's departure, Sonia's world has been turned upside down. Her husband has died of a broken heart, and her son, bitter over his sister's destructive actions, has become rebellious. Her greatest desire is to have her family together at Christmas, but after what Jody has put them all through, can Sonia truly forgive her daughter?
Jody Pettit O'Dair ran away to experience a life of adventure and excitement, but since her departure, her world has been turned upside down. She's been abandoned by the man she met and married, lost her job, and is unable to care for her two children. With nowhere else to turn, this prodigal daughter begins the long journey home and prays she will be welcomed after walking away so long ago. Will Jody find forgiveness in the arms of her family as easily as she received it from God?
Purchase Link for A Christmas Homecoming
DON'T FORGET TO LEAVE A COMMENT TO BE PLACED IN THE DRAWING TO WIN AN EBOOK COPY OF A CHRISTMAS HOMECOMING BETWEEN NOW AND SATURDAY), NOVEMBER 7TH AT MIDNIGHT MST.
BY LEAVING A COMMENT, YOU GRANT PERMISSION FOR YOUR EMAIL TO BE REVEALED TO THE AUTHOR IF YOU ARE THE WINNER TO FACILITATE RECEIPT OF YOUR BOOK.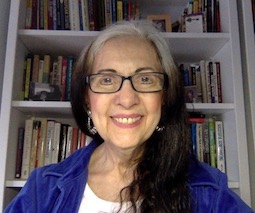 Dr. MaryAnn Diorio is a widely published, award-winning author of compelling fiction that deals with the deepest issues of human life. Her fiction has won several awards, including the 2020 Christian Indie Book Award for Historical Fiction, the Silver Medal for E-Book Fiction in the 2015 Illumination Book Awards Contest, and First Place for Inspirational Fiction in the 2011 Colorado RWA Launching a Star Contest.
MaryAnn resides with her husband in New Jersey. They are the blessed parents of two amazing daughters, a very smart son-in-law, and six rambunctious grandchildren. You can reach MaryAnn at maryanndiorio.com.
SUBSCRIBDE TO PATTI'S BLOGS HERE.