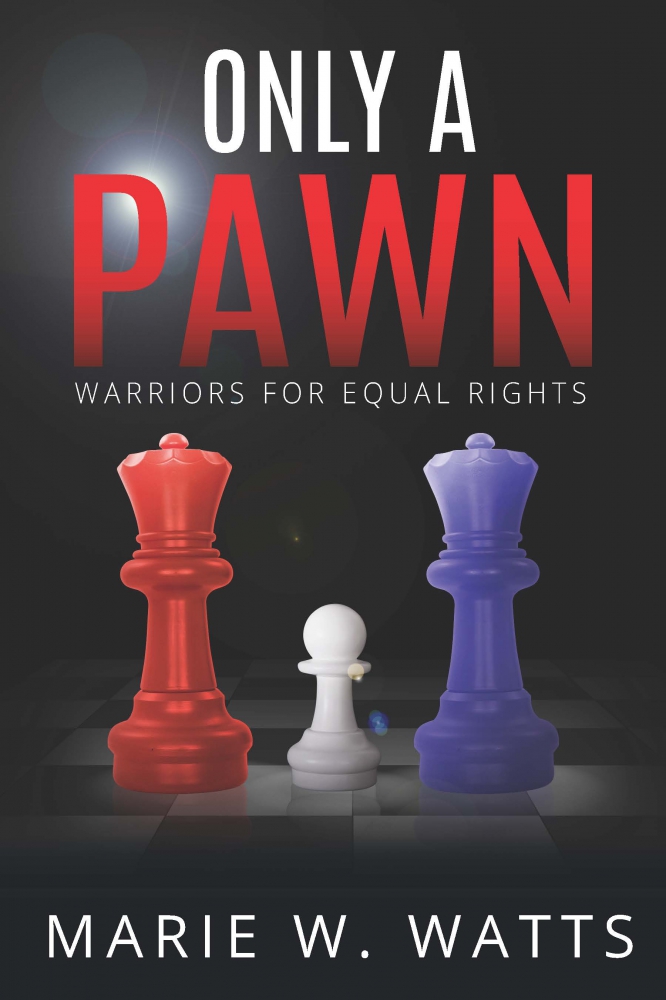 FEATURED BOOK: Only A Pawn: Warriors for Equal Rights
AUTHOR: Marie W. Watts
PUBLISHER: Las Tortugas Press
GENRE: Mystery
SERIES OR STAND ALONE: Series Second book in the trilogy
TARGET AGE: Adult
IT IS MY PLEASURE TO WELCOME AUTHOR MARIE W. WATTS TO THE OVER 50 WRITER. ON THIS VETERANS DAY, MARIE PAYS TRIBUTE TO ONE OF OUR AMERICAN HEROES.
MARIE IS OFFERING A GIVEAWAY! SIMPLY LEAVE A COMMENT BELOW TO ENTER THE DRAWING FOR AN EBOOK COPY OF BOTH BOOKS IN HER TRILOGY, THE CAUSE LIVES AND ONLY A PAWN.
HONORING OUR VETERANS
by
Marie W. Watts
This Veteran's Day I would like to pay tribute to a special veteran in my life, my dad, Second Lieutenant Albert Theodore Watson Senior (October 14, 1923 – December 2, 1997).
Upon high school graduation, he was denied an appointment to the Naval Academy because of kidney issues. Eventually, he talked his way into the service, pointing out that he had played football in college with no issues. Still, he had to rely on a friend to take his urine test for admission into Officer Candidate School.
Like most World War II veterans, my dad spoke little of his experiences in the war. Most of what I know of his service, he left in a "memoir" about his life. He had led a sheltered existence until he mixed with rough-talking, rough-acting GIs. In the European Theater, an unexploded grenade outside his fox hole, frozen feet, bombed-out cities, and death must have re-shaped his approach to life.
On the positive side, he saw London and Paris as well as met my mother while stationed at Fort Benning, Georgia. Additionally, he was able to take advantage of the GI bill and obtained his PhD in Chemistry from Vanderbilt University.
The kidney issues dogged him the rest of his life and, at one point delirious in intensive care, he ranted about the sights and sounds of war he never shared with us, not even in his memoir. Fortunately, through the Veteran's Administration, he was able to receive a life-saving kidney transplant in 1972. He continued to live an adventure-filled life, retiring as the President of Borg-Warner Chemicals, Europe.
What saddens me, however, is I never thought to ask about his feelings and how the experience changed him. As writers, we need to dig for the hidden story--how ordeals generate emotions, possibly altering the course of someone's life. Only by adding this element to works of fiction and nonfiction will our writing become alive.
If you know a living veteran, please help him/her record the full story before it's too late.
Blurb for Only a Pawn
All Alice wants is to do the right thing. But the powers that be have other ideas.
Alice's struggles to meld her dysfunctional team into a crack federal investigative unit bringing workplace discriminators to justice have paid off. She doesn't regret the corners she cut to mete out justice. But one egregious offender continues to elude her. As she fights to nail the affluent, arrogant sex harasser, obstacles appear.
To make matters worse, a new employee, Royce, sends the office into chaos all the while the staff's personal problems distract from their essential work. The stress and anxiety send Alice into rehab. Meanwhile, her team attempts to fend off the federal auditor bent on ending Alice's career over her shoddy recordkeeping and failure to adhere to the rules. Barely surviving a brutal grilling from a House subcommittee, Alice feels the harasser will go free.
Will a white knight arrive in time to rescue Alice from checkmate?
DON'T FORGET TO LEAVE A COMMENT TO BE PLACED IN THE DRAWING TO WIN AN EBOOK COPY OF BOTH THE CAUSE LIVES AND ONLY A PAWN BETWEEN NOW AND SATURDAY, NOVEMBER 21ST AT MIDNIGHT MST.
BY LEAVING A COMMENT, YOU GRANT PERMISSION FOR YOUR EMAIL TO BE REVEALED TO THE AUTHOR IF YOU ARE THE WINNER TO FACILITATE RECEIPT OF YOUR BOOK.
Marie W. Watts is a former employment discrimination investigator and human resource consultant. Coauthor of Human Relations, 4th ed., her work has also been published in the Texas Bar Journal and the Houston Business Journal, as well as featured on Issues Today. Marie and her husband live on a ranch in central Texas. In her spare time, she supports a historic house and hangs out with her grandsons.
Connect with Marie:
Website www.mariewatts.com
Bookbub @mariewwatts
Facebook @mariewattsbooks
Twitter @mariewattsbooks
Instagram @mariewattswriter
Linkedin Marie W. Watts
SUBSCRIBE TO PATTI'S BLOGS HERE