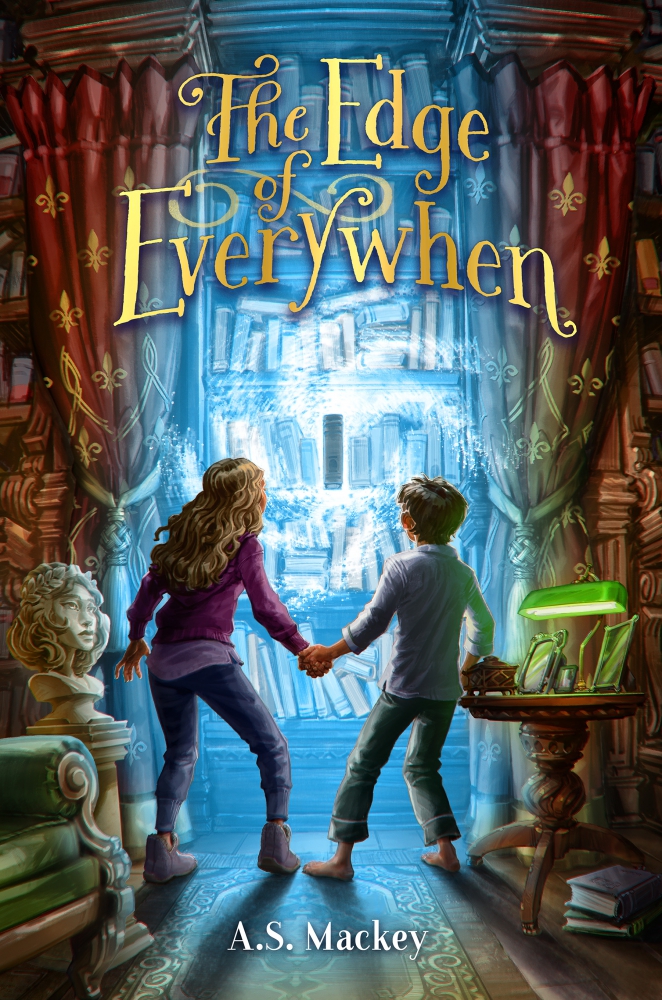 FEATURED BOOK: The Edge of Everywhen
AUTHOR: A.S. Mackey
PUBLISHER: B&H Kids/Lifeway
GENRE: Middle Grade Fiction
SERIES OR STAND ALONE: stand-alone
TARGET: AGE: 9-12
IT IS MY PLEASURE TO WELCOME AUTHOR A. S. MACKEY TO THE OVER 50 WRITER. SHE SHARES HER WRITING JOURNEY AND WHAT SHE HAS LEARNED ALONG THE WAY.
AUTHOR A.S. MACKEY IS OFFERING A GIVEAWAY! SIMPLY LEAVE A COMMENT BELOW TO ENTER THE DRAWING FOR A SIGNED PAPERBACK COPY OF THE EDGE OF EVERYWHEN.
MY 50th BIRTHDAY PRESENT
by
A. S. Mackey
My first book was a steno pad full of poems given to my parents as a gift when I was 8, way back in 1976. As a child I remember being given an assignment to write a poem, and the teacher was convinced I had plagiarized it. All through my early teen years I wrote the requisite angsty poetry. My first novel was a sci-fi novel at age 15 and it was so very VERY very bad! I went to college and worked at the Oglethorpe Echo newspaper for about a year as a reporter and editor, and in 1991 I graduated from UGA with a degree in English literature (which, as I found out, you can't actually "do" anything with). I wrote here and there as I got married and had kids, and every now and then my sister and I would work on some kids' books, but we never really got serious about it because I didn't think I had time, and I truly didn't believe in myself.
NaNoWriMo was a catalyst for me. (National Novel Writing Month, where your goal is 50,000 words in the month of November. See www.nanowrimo.org ). I have done NaNoWriMo since 2011, and I have completed (or attempted) a novel each year since then. I wrote a murder mystery, and an inspirational story, and another murder mystery. But in 2015, I wrote the first draft of a middle grade fiction novel during NaNoWriMo, and I knew that there was something different about this one somehow.
After I finished the novel in 2016, I enlisted beta readers and took their feedback seriously. My target reader is a 12-year-old girl, so I found 9 girls (children of my friends) and they were all happy to be beta readers. I had adult beta readers, as well, and listened carefully to all of their feedback and made more changes.
Then I set out to find an agent. This is why I chose to pursue representation by an agent.
1) Agents don't make money until you do, so it behooves them to get you the best deal they can.
2) Agents with reputable publishing houses come with lawyers that protect your intellectual copyright and look out for your bottom line. Mine did and they were INVALUABLE.
3) Publishers who take on authors directly expect you to have a detailed marketing plan and do far more marketing. I personally didn't want that; I wanted a traditional agent with a traditional publishing house that has a marketing plan and a dedicated publicist with strategy and experience.
After I thought the book was ready, I bought the 2016 edition of The Writers Market, and searched for agents accepting new manuscripts in my genre. Then I sent 43 queries the first go-round – resulting in all rejections, or no responses (which is a rejection in my book). But I didn't give up! I figured something must be wrong with the book. So I set the novel aside and read EVERY book I could get my hands on about the craft of writing so that I could make the book better. I highly recommend these 4:
On Writing by Stephen King (warning, lots of F-bombs in that one, but read it anyway)
Bird by Bird by Anne Lamott
Walking on Water by Madeleine L'Engle
The Fire in Fiction by Donald Maass.
I took an online master class by James Patterson. This class did not meet my needs at the time, as itt focused on marketing.
After I read these books, I completely rewrote my novel again. Once I had a new and improved finished product, I researched winning query letters online and worked hard on drafting a killer query. I think I rewrote my query at least a dozen times, honing it and tweaking it. (If you'd like a copy of the query letter I sent, email me at [email protected] and I'll send it over!)
I am a follower of Jesus, and it was at this stage that I had an in-depth prayer session about my novel, and completely surrendered my own agenda, asking for God's favor in this whole endeavor, and for His will to be done. Then I sent 31 of the new and improved queries out in the fall of 2017, and one agent fell in love with my book and offered to represent me a month later. Yes, I cried!
Since this is the Over-50 Writer blog, I have to mention that the official publication offer came in a week after my 50th birthday, on Christmas Eve in 2018. What a gift! My debut novel, The Edge of Everywhen, was published by Lifeway on May 12 of 2020, and it has gone on to win the SCWC 2021 Notable Book Award for Fiction. www.theedgeofeverywhen.com.
I know that if I had believed in myself at an earlier age, I would have pursued a writing career much sooner. Perhaps my perseverance became stronger with age. Perhaps I know myself and my abilities (and limitations) better, as we all do when we've gone around the sun for a few decades. That said, I was a cocky know-it-all in my twenties and thirties, so there's a good chance I wouldn't have been able to accept constructive criticism then the way I can now, and age has brought me so much wisdom and grace in this regard.
Book Blurb for The Edge of Everywhen
Tragedy is sometimes followed by mystery, at least that's what faces 13-year-old Piper and her brother, Phoenix, who has autism. Mourning the loss of their parents, they must move a thousand miles away to live with their insufferable Aunt Beryl. But it is in their aunt's cavernous library that Piper and Phoenix hear a mysterious book calling to them. Its name is Novus Fabula, and its story will change their lives forever.
Available in paperback, Kindle, and audible!
DON'T FORGET TO LEAVE A COMMENT TO BE PLACED IN THE DRAWING TO WIN A SIGNED PAPERBACK COPY OF THE EDGE OF EVERYWHEN BETWEEN NOW AND SUNDAY, MARCH 14TH AT MIDNIGHT MST. (U.S. residents only eligible for print copy).
BY LEAVING A COMMENT, YOU GRANT PERMISSION FOR YOUR EMAIL TO BE REVEALED TO THE AUTHOR IF YOU ARE THE WINNER TO FACILITATE RECEIPT OF YOUR BOOK.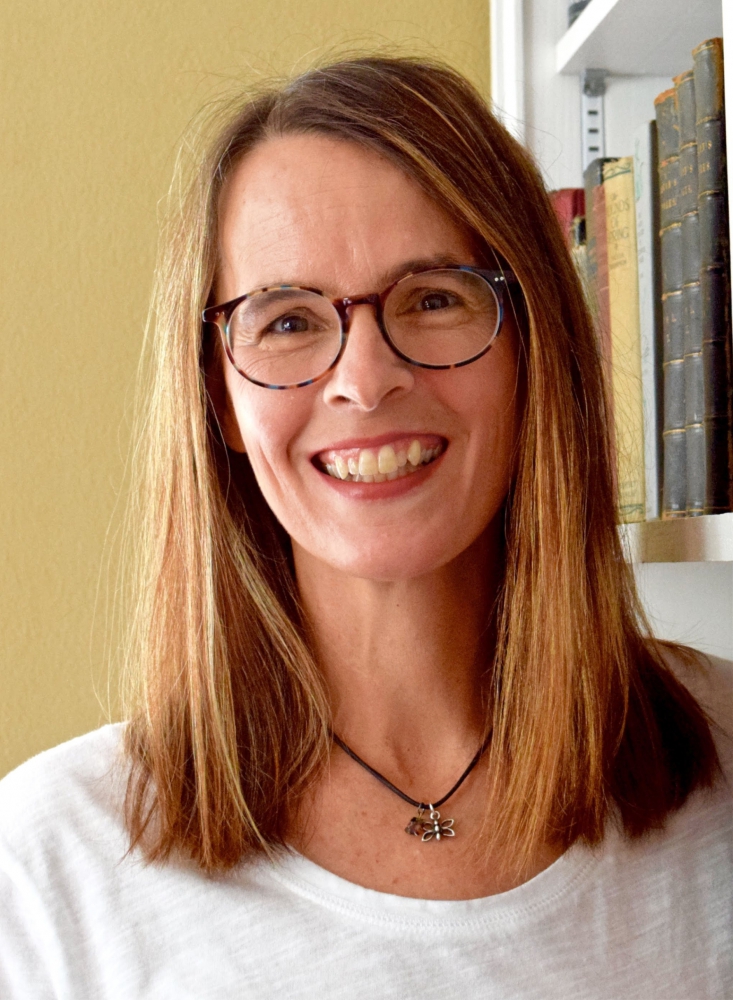 Author A.S. Mackey is a member of the Society of Children's Book Writers and Illustrators (SCBWI) and the American Christian Fiction Writers organization (ACFW). She serves as secretary of the Shoals Writers Guild in Florence, Alabama where she currently lives with her husband. She is represented by Elizabeth Bennett at the Transatlantic Literary Agency, and her debut middle grade fiction novel was published in May of 2020 with Lifeway.
If you'd like to connect, visit these links:
Website: https://www.asmackey.com/
Facebook: https://www.facebook.com/AuthorASMackey/
Twitter: https://twitter.com/AuthorASMackey
Instagram: https://www.instagram.com/author_asmackey/
Amazon: https://www.amazon.com/Edge-Everywhen-S-Mackey/dp/1535992611
SUBSCRIBE TO PATTI'S BLOGS HERE