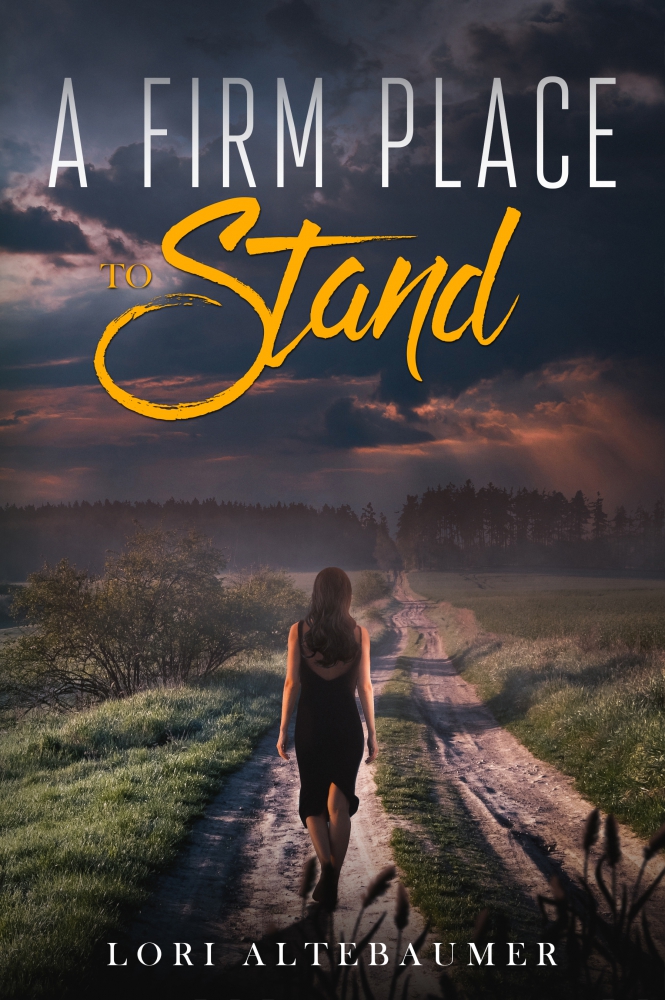 FEATURED BOOK: A Firm Place to Stand
AUTHOR: Lori Altebaumer
PUBLISHER: BookBaby
GENRE: Romantic Suspense
SERIES OR STAND ALONE: Stand Alone
TARGET AGE: 25 - 45
IT IS MY PLEASURE TO WELCOME AUTHOR LORI ALTEBAUMER TO THE OVER 50 WRITER. LORI SHARES HOW THE BUTS IN LIFE CAN PREVENT US FROM FULFILLING GOD'S PURPOSE.
LORI IS OFFERING A GIVEAWAY! SIMPLY LEAVE A COMMENT BELOW TO ENTER THE DRAWING FOR AN EBOOK COPY OF A FIRM PLACE TO STAND.
NO BUTS IN THE LAND OF MILK AND HONEY
by
Lori Altebaumer
"Let us go up at once and take possession, for we are well able to overcome it" (Numbers 13:30 NKJV).
The Israelites wandered in the desert for forty years, but I won't judge. I wandered in a desert of my own for more fifty years before answering the call to write.
Even then, when God brought me to the border, inviting me to cross over into the life and purpose He had for me, I hesitated. A land of milk and honey waited on the other side, but like the Israelites, my fears held me back.
Yes Lord, I love to write and have dreamed of moving people by the power of words all my life.
But I'm fifty years old and that's kinda old to be starting this.
But I don't have any formal training in writing or communication.
But I'm not as good as….. (so many names to choose from here!)
But I'm told I need a platform. I need to market and use social media, but I can barely find my inbox.
Then I look to Matthew 14:16-18 where Jesus feeds the crowd of 5000. When He told the disciples to feed the people, they responded with a but.
But we don't have enough.
But there's no where to go and get more.
But…
Jesus told them to bring him what they did have, and he took it and multiplied it until it was more than enough. He does the same for us.
So… I'm fifty years old. Now I have 50 years of wisdom and experience, and stories of really dumb things I've done to draw on for whatever I write.
I don't know how, but I can learn thanks to podcasts, books, conferences.
I need a platform so I get to build a community of friends I might otherwise never have met.
God already knows all of our buts. It's what we tell ourselves that matters.
Max Lucado once asked, "Aren't' there more who need the truth than those who tell it?"
I wonder who's going unfed because we only see what we don't have?
Blurb for A Firm Place to Stand
She's either being stalked or losing her mind.
A job at a camp in the rustic and often rugged landscape of West Texas offers Maribel Montgomery a chance to escape both, especially if she makes sure no one knows where she's there.
But when the body of a woman washes up in the river on her first morning, her hope of a safe place to start over are swept away.
The suspicion she's being watched follows her to her new home, and Maribel is forced to take a stand or keep running. Does she have the courage to face the danger stirring at the Pool of Siloam Camp?
If she doesn't, another girl might die.
If she tries and fails, it could be her.
Circumstances force her into the acquaintance of Conner Pierce—a man with secrets of his own.
Can Maribel risk working with him in order to save the next victim and find a missing girl?
Or is he the killer?
DON'T FORGET TO LEAVE A COMMENT TO BE PLACED IN THE DRAWING TO WIN AN EBOOK COPY OF A FIRM PLACE TO STAND BETWEEN NOW AND SATURDAY, APRIL 17TH AT MIDNIGHT MDT.
BY LEAVING A COMMENT, YOU GRANT PERMISSION FOR YOUR EMAIL TO BE REVEALED TO THE AUTHOR IF YOU ARE THE WINNER TO FACILITATE RECEIPT OF YOUR BOOK.
A life-long Texan, Lori Altebaumer lives in a small community not far from the rugged West Texas landscape she loves to write about. The mother of now grown twins, she has learned the secret to survival is a well-developed sense of humor and an active prayer life. After years spent working in the insurance business, Lori now uses her time to educate, inspire, encourage, and entertain through the written word. Connect with Lori:
Website https://www.lorialtebaumer.com/
Facebook https://www.facebook.com/lori.altebaumer
Instagram https://www.instagram.com/lori_altebaumer/
Amazon Author Central https://amazon.com/author/lorialtebaumer
Book Bub https://www.bookbub.com/authors/lori-altebaumer
Goodreads https://www.goodreads.com/lori_altebaumer
SUBSCRIBE TO PATTI'S BLOGS HERE