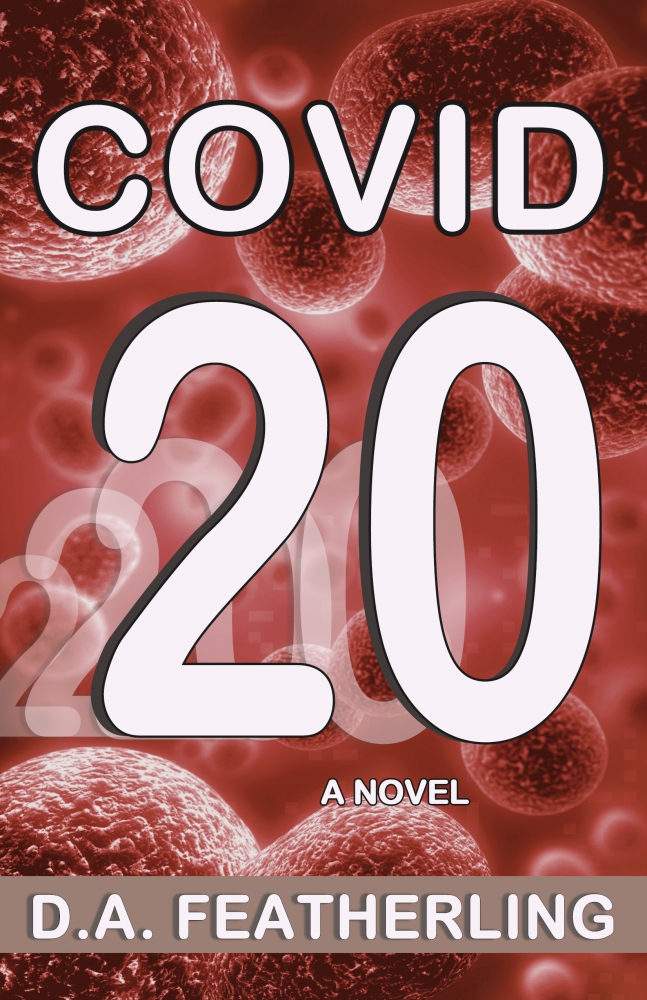 FEATURED BOOK: Covid-20: A Novel
AUTHOR: D. A. Featherling
PUBLISHER: Independently published thru Amazon
GENRE: Thriller
SERIES OR STAND ALONE: Stand alone, but sequel, Covert Justice, available on Amazon
TARGET AGE: Adult (18 and up)
IT IS MY PLEAUSRE TO WELCOME AUTHOR DOROTHEY FEATHERLING TO THE OVER 50 WRITER. DOROTHY SHARES A LIFE EXPERIENCE THT REMINDS US GOD IS ALWAYS AWARE OF OUR CIRCUMSTANCES.
D. A. IS OFFERING A GIVEAWAY! SIMPLY LEAVE A COMMENT BELOW TO ENTER THE DRAWING FOR A PRINT COPY OF COVID 20: A NOVEL
GOD'S PROVISION
by
D.A. Featherling
I always enjoy stories about how God provides...
The high school where the Business Fair I attended was held is huge. They have around 2,000 students. So, an enormous building, like a maze inside, with scattered, insufficient parking all around.
I had to park in one of the last spots on the whole campus...a LOOOONG way from the main building where I needed to be. I had my purse and a bag that was pretty heavy, so not a whole lot to carry, but still, a hefty armful. By the time I walked around the first third of the building to get in (they only had one entrance open) I was getting out of breath. My lungs continued to strain for air the farther I went. I thought I was going to have to sit down on the curb and rest a couple of times, but managed to keep going (I was only doing a normal walking pace). Needless to say, all these young teachers were moving along like it was nothing...and it probably was to them.
Once finally inside the building, I was able to put the bag down for a moment and catch what little breath I had left, then make my way through the building to the area where the fair was set up.
Evidently, all the 1500 teachers they were expecting decided to arrive early! An hour earlier than I'd been told...so I walked in on a bit of a crowd. Found the display of some of my books, which had been set up the afternoon before with my son's help, had evidently been taken as a 'help yourself' display, because I was missing one book and a mousepad. Oh, well. The mini-crowd only lasted about 15 or so minutes, then they all left to attend a 'convocation'...whatever that was. So, I was able to make a few adjustments, catch my breath, and sit briefly.
All of this of course, while wearing a mask, which makes it difficult for me to breathe anyway. They did have the tables set around 4 or 5 feet apart and there was no one next to me on the right. (I'd deliberately chosen an end table to avoid close interaction with others since I can't be vaccinated).
Then the convocation dismissed and the horde descended. For the next 45 minutes-1 hour, chaos reigned. Teachers in groups (most unmasked) strolled the aisles (both before me and behind me) collecting handouts/souvenirs/whatever each vendor was giving away (mine was only my business cards). Very soon one of the organizers got on the PA system and started giving away door prizes, so we had that going on, plus the conversations of several hundred folks all at the same time.
Needless to say, it was next to impossible to communicate with someone unless you leaned forward until you were only a couple of inches away and shouted. I wound up with strained vocal cords and a sore throat. When the announcer was silent, you could speak normally, but when he was talking, it was hard. The noise did a bit of a number on my fibro sensitivity to sensory overload initially, but some fervent praying helped that go away quickly.
When the event wound up (an hour early since it had started earlier than anticipated), I boxed up my materials, loaded them on my little dolly and started for what turned out to be my God-adventure for the day.
I had tried to observe as I left my parking place where I was in proximity to the building. My son and I had parked in a different area the day before to set up. But I THOUGHT I could make a shortcut out the exit we'd used and still reach my car. It was a long way to where we were the day before on a 90-degree day.
WRONG. I got back to the previous day's parking lot (after a fairly long walk pulling a heavy dolly and carrying a couple of packages and a purse) and realized I couldn't get to where I needed to go from there. I sort of stood there for a few minutes and prayed.
I had noticed a white maintenance van parked at one side of the lot I now stood in and a man standing by it, who had watched me walk halfway down the lot, then stop and stand and stare around. He finally walked over to me as I turned and started back the way I came and asked if I was lost.
Understatement of the year. I confessed I was. He looked kind of scrawny and wrinkly, maybe in his late 60s or 70s. He said if I didn't object to riding in his old van, he'd take me to where I was parked since it was all the way around the building - completely opposite where I was. I grabbed at this obvious provision of God while doing a surreptitious glance for wings or a halo.
He took over the dolly (I must have looked like I was going to collapse) and we went to his van where he opened the back, moved some things around and lifted the loaded dolly (which wasn't light) and put it in back. Then he proceeded to clear off the passenger's seat so I could get in.
It took quite a drive to get back around the building and all the way to where my car was parked. I'd never have made it if I'd had to walk. At least not until late afternoon.
I told him I thought God had provided him as an angel to rescue me. He said that's what his wife called him anyway. He found my car, unloaded the dolly beside it, put the boxes in the trunk and started to leave. I asked him to wait a minute and gave him a couple of my books as a very small 'thank you.'
He looked at the cover of the thriller and traced my name with his fingertip and asked if that's who I was. I said "yes" and he said he'd never had a book from an author before. I thanked him again profusely and he got in his van. I got in my car and backed out of the space behind his van. He started forward and I expected him to head to the left to return to the school campus. Instead, he turned to the right and headed toward a highway...not at all the direction I would have expected.
I know. He was probably taking an early lunch or something...but still....maybe God did send an angel to help me. It was a huge blessing regardless, and I thank my friends for the prayers that got me there, through and back, and for my 'angel.'
Blurb for COVID 20: A Novel
WINNER TAKE ALL
A terrorist who will pay for the ability to annihilate the world.
A scientist who will try to carry out a mission from a God he doesn't know.
A rogue microbiologist who holds the key to the specter of a Covid-20.
The battle lines are drawn in a barely recovered post-pandemic world.
The outcome will impact humanity forever.
DON'T FORGET TO LEAVE A COMMENT TO BE PLACED IN THE DRAWING TO WIN A PRINT COPY OF COVID 20: A NOVEL BETWEEN NOW AND SATURDAY), AUGUST 28TH AT MIDNIGHT MDT.
BY LEAVING A COMMENT, YOU GRANT PERMISSION FOR YOUR EMAIL TO BE REVEALED TO THE AUTHOR IF YOU ARE THE WINNER TO FACILITATE RECEIPT OF YOUR BOOK.
D. A. (Dorothy) Featherling is a multi-published, award-winning author who has penned over 30 books in multiple genres, both fiction and non-fiction, since 2013.
Her administrative years before retirement in corporations, state agencies, and a university physics research center, as well as owning a home staging business, provided a multitude of ideas and characters for her novels.
She has won awards for journalism and public speaking and was the recipient of a national Daphne DuMaurier Mystery/Suspense Award for her first mystery.
D.A. currently lives in Georgetown, Texas.