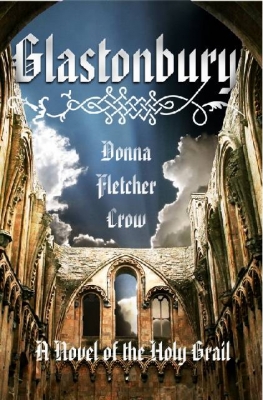 At the time my friends— all sensible people— were retiring I started a whole new career. I didn't plan it that way, so let me explain:
By the time the turn of the Millennium came around I had been writing professionally for twenty years and had published thirty books. I didn't see why that couldn't just keep on for another twenty years and thirty books. But life is full of surprises.
And life happened. In a nutshell, in the first decade of the 21st century, our family experienced 5 deaths and 10 births, 2 troubled marriages and 4 weddings, numerous graduations, baptisms and ordinations, and my husband and I helped plant a new church. Along with all of that the publishing industry was changing, but even more, I was changing.
All of which meant that, although I continued to write, I didn't publish anything for 10 years. And in that time, the electronic revolution happened.
Which meant that in 2010 when I found a new agent who sold my Monastery Murders series to a wonderful English publisher, reentering the publishing world was like starting a whole new career: Website, Blog, Facebook, Twitter, ebooks, trailers. . . The list was endless and the learning curve incredibly steep.
Fortunately, my husband, whose office is at home, is very tekky, so when I got hopelessly lost in the euniverse I could sit at my computer and yell, "Stan!" He would come untangle me. Well, he still does.
So, here I am now with my website, sporting book trailers and telling about all my forty-some, variously available in print, ebook and audiobook on my web site, my Deeds of Darkness; Deeds of Light blog where I talk about mystery writers around the globe, a Facebook page which I would love to have you follow, and a Twitter account which I'm not very good at.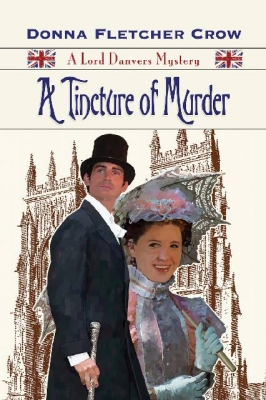 Now, in my 21st century career, I have a mystery series for which I try to publish a new title each year. My latest is
A
Tincture of Murder
in
my
Lord Danvers Victorian True-Crime
series. Set in mid-Victorian York, it
explores the case of William Dove "The Leeds Poisoner" whose trial set legal principles still debated in courts of law today. And as a bonus, I found a second true crime that is more bizarre than anything Charles Dickens dreamed up. It's so true— fact is often stranger than fiction.
The Lord Danvers books also feature a fictional crime wrapped around the true ones. And in this case I got to explore the work of the 19th century slum priests through the work of Danvers' younger brother Frederick who has taken Holy Orders and shocked the family by starting a refuge for fallen women and destitute children in the worst slum in York. When the poor women begin dying unexpectedly at The Magdalen House Frederick pleads with Lord and Lady Danvers to look into the circumstances. Freddie fears that the Asylum will not survive when news of these deaths spreads throughout the city.
But is death closer to home than anyone suspects? Was a servant girl's untimely death at elegant Wandseley Hall an accident as first believed? And was the fire that nearly destroyed Danvers' ancestral home linked to the deaths in some way? Is Lady Antonia's own life threatened?
This series is ebook only, available in all formats, including: Kindle and Nook.
In my Monastery Murders series An Unholy Communion will be available in North America in April. This is a contemporary exploration of the power of Good over the reality of evil. Felicity, my contemporary American heroine, is helping her priest fiancé lead a group of young people on a pilgrimage across Wales when terrifying things begin to happen. Preorder here.
Next up in the Elizabeth & Richard romantic suspense series will be A Jane Austen Encounter with English professors Elizabeth and Richard on sabbatical in England walking in Jane Austen's footsteps on a blissful second honeymoon— until murder happens.
And one book that has been a constant in my career since its first publication in 1992 is my Arthurian epic Glastonbury, The Novel of Christian England. It is now in its 4th edition with 3 publishers. (Glastonbury, A Novel of The Holy Grail, is available in ebook format. This, my best-known work, covers 1500 years of British history from the birth of Christ to the Reformation.
All that and grandchildren, too. Stan and I just celebrated our 49th wedding anniversary. We have 4 adult children and 11 grandchildren. Since they live in Los Angeles, Boston, Calgary and Kentucky we don't get to see them often enough, but another new trick I've learned in this age of miracles is how to Skype. I can only wonder what the next decade will bring.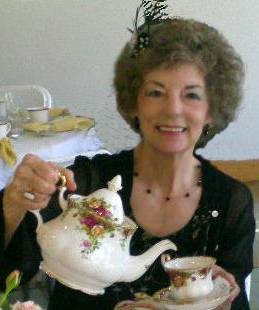 Donna Fletcher Crow is the author of 43 books, mostly novels dealing with British history. The award-winning Glastonbury, A Novel of the Holy Grail, an Arthurian grail search epic covering 15 centuries of English history, is her best-known work. She is also the author of three mystery series. Her newest titles are: An Unholy Communion, The Monastery Murders, A Tincture of Murder, The Lord Danvers Victorian true-crime novels, and A Jane Austen Encounter in the romantic suspense series The Elizabeth & Richard Mysteries. Donna and her husband live in Boise, Idaho. They have 4 adult children and 11 grandchildren. She is an enthusiastic gardener.
To read more about all of Donna's books and see pictures from her garden and research trips go to: http://www.donnafletchercrow.com/