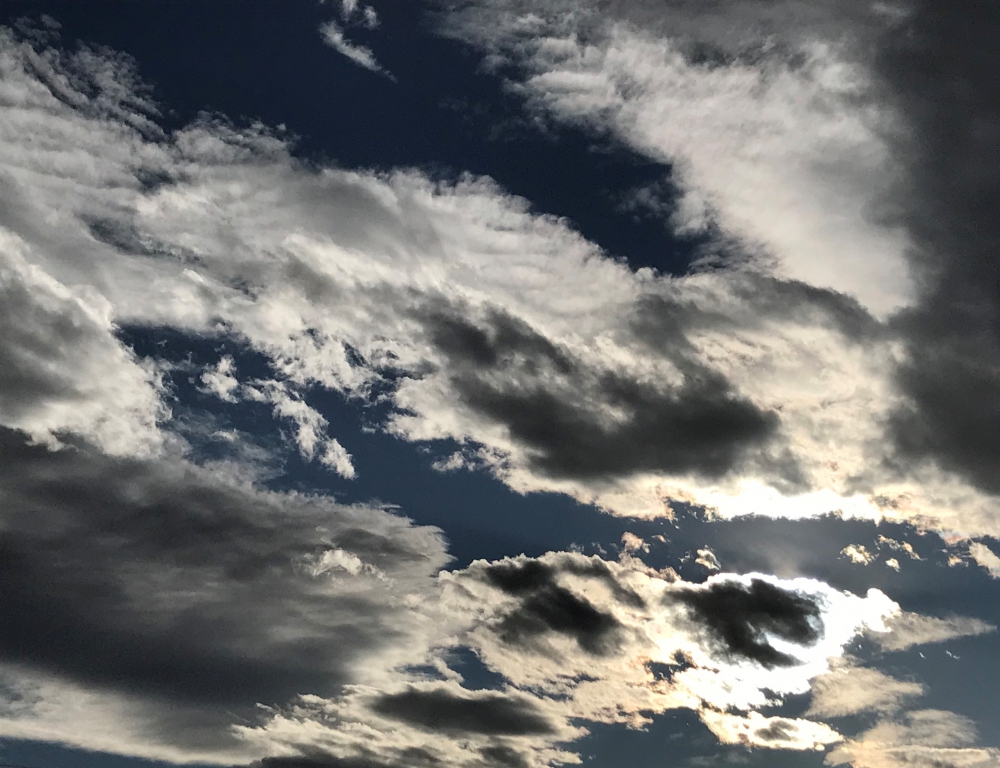 COVID AND ME
by
Patti Shene
I had just completed a Zoom meeting with a friend who commented during our conversation that I looked tired. "Probably emotional stress," I told her. I had learned earlier in the week of my brother-in-law's death, and had been visiting family members for the past couple of days.
Yet, I was physically drained. Suddenly, chills took over my body with such intensity, my teeth chattered. It was a hot Southeastern Colorado mid-September day and the air conditioner was on, but the house wasn't that cold. Then, I noticed a headache. I seldom get headaches, so this definitely made me take notice. Still, the thought of COVID was not foremost on my mind. After all, I was fully vaccinated with two doses of the Moderna vaccine.
I had a medical appointment out of town the next day, but decided I was in no condition to travel, so called and canceled that. I was in bed by eight o'clock that evening, highly unusual for this night owl, and slept until almost ten the next morning.
My brother-in-law's funeral was to be held that next day, the only reason I thought it wise to get COVID tested. I didn't want to attend the funeral and infect others. It came as a surprise when I tested positive. I then had to notify all of the family members I had visited.
I had heard of several people who take Zinc on a regular basis, but I had never taken it. I called my physician's office to ask what vitamin protocols they recommend for their positive COVID patients. The next thing I knew, I received a call back informing me that my doctor had reported my symptoms to the state and that I was eligible for an infusion of monoclonal antibodies. This surprised me since I didn't think I was that sick. However, I learned the infusion is for patients with mild to moderate symptoms.
I spent the required ten days reading, sleeping, watching TV, sleeping, texting with friends, sleeping, catching up on housework a little, and sleeping! I was fortunate that my daughter delivered groceries and anything I needed to my front door. Fatigue was my main symptom with an occasional headache, runny nose, and sometimes the feeling I had water up my nose. Whether the two Moderna vaccines, the antibody infusion, or God's mercy, or perhaps a combination of all three, I was blessed to have no respiratory involvement. I know a lot of friends and family sent up prayers on my behalf.
The hardest part for me was the fact that I was unable to attend my brother-in-law's funeral. I heard it was very nice and several people attended. I am grateful I got tested, though, rather than attending the funeral not even realizing I had this virus! I am thankful to God for giving me the wisdom to do that.
Once over the COVID, I noticed a smoky smell and was concerned there was an electrical issue somewhere in the house. I checked light switches, electrical sockets, and walls for "hot spots". My daughter came by a couple of days later and I told her about it. She said, "Mom, I don't smell a thing!"
It then occurred to me that smell was a major issue for so many people with COVID, so thought I would do some research. I discovered the condition known as parosmia, a distorted sense of smell. Some people described everyday odors as smoky or unpleasant. The smell was persistent for me and sometimes reminded me of the lingering odor that occurs after cooking foods with onion.
By this time, I was out and about more often and noticed the smell everywhere, at church, in my car, in places of business. I contacted my physician's office to report the condition, thinking that the only way data can be collected is if people report what they experience.
A couple of days later, my doctor's nurse called with a recommendation from my physician to take alpha-lipoic acid, an over-the-counter vitamin supplement. I've been taking one capsule a day for less than two weeks and have noticed a great improvement.
I'm grateful to be back to normal now, attending morning exercise class and taking pictures of sunsets in the evening!