I'm back
Thursday, April 11, 2013 by Patti Shene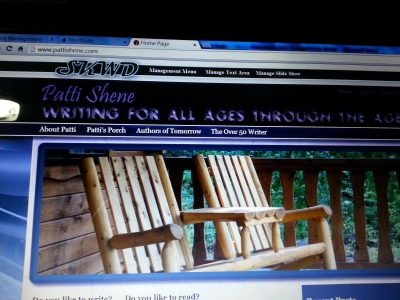 Have you ever been away from home for awhile, and when you return, you feel like you're back in the company of an old friend? The carpet on the floor feels familiar under your feet, and the softness of the cushion on your couch is comforting.
That's the way I felt when I visited my web site today. I haven't posted anything on any of my three blogs for quite some time. I won't rehash the reason, but go to my post on Patti's Porch entitled Those Temporary Interruptions, if you don't know what happened.
When I returned here today, I reviewed posts from bloggers who have guested here. I've kept in touch with some of you and you've checked in with me these past couple of months. I thought of things I want to improve, like when you come home and find yourself saying, "man, that window could sure use some new curtains!" Then there are the things you've never noticed before, such as "How long has that picture been hanging so crooked?"
Just like anyone who returns home after an absence, there is some housecleaning to be done. I need to reschedule those guest bloggers I had to put on hold back in February. I've begun weeding out the emails from folks who posted with me months ago, made a list of contacts I'd like to invite to guest post in the future, and started a list of subjects I'd like to cover.
Our web sites are our homes in cyberspace. They reflect our personalities and provide a welcome environment for visitors. I'm so glad to be back!
Look for guest posts from The Over 50 Writer starting next Thursday. I know my home has stood idle for a while, but there's activity here again, so please stop by!
See you next Thursday!
---